PICTURE PERFECT! This NEW PHOTO of Aishwarya posing with daughter Aaradhya at Cannes 2017 is BREAKING THE INTERNET!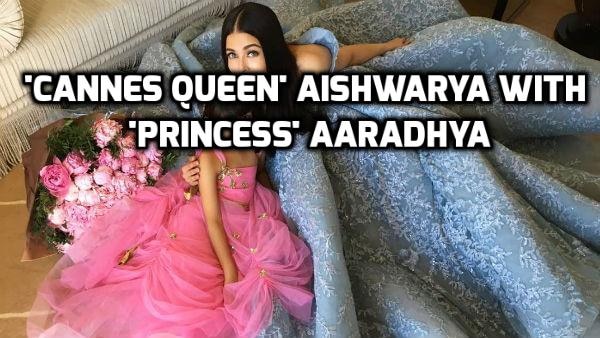 The ever-so-gorgeous Aishwarya Rai Bachchan is back from Cannes 2017 but her sensational red carpet appearance is still a talk of the town. The Bachchan bahu walked the red carpet twice this year and both the time she was breathtaking.
Aishwarya on Day 1 of her Cannes 2017 journey
While on day 1 she turned heads in a baby blue embroidered princess themed gown by Michael Cinco on day 2, she slayed the red carpet in a hot crimson off shoulder gown.
Aishwarya looked breathtakingly hot on day 2 of her red carpet appearance
Meanwhile, we also saw Aishwarya's daughter, Aaradhya making her debut at one of the event for L'Oreal along with her mommy.
Aishwarya attended an event at Cannes 2017 with daughter Aaradhya
Various pics & videos of the two flooded on social media with fans awwing over all of them 
[Cannes 2017: VIDEOS! Aaradhya walks Mom Aishwarya to red carpet, they kiss goodbye & daughter faces camera like a Boss!] 
And if you are still in aww with the mother-daughter duo appearing on red carpet together, then here's a pic that you might have missed. A new click of both Aishwarya & Aaradhya posing for what we assume is a fairy tale themed photo shoot from Cannes 2017 is making rounds on social media.
CANNES 2017, Day 6: Sonam Kapoor GLITTERS in a GOLD Elie Saab gown on the RED CARPET!
PIC CREDIT: Twitter/Loreal Paris India
The picture of the two is from the Day 1 of Aishwarya's Cannes 2017 red carpet appearance where Aaradhaya was seen wearing a pink coloured gown. She wore a golden headband making her look even more cute.The mother daughter duo will for sure steal your hearts with this pic, take a look:
PIC CREDIT: Twitter/Aishwarya Rai fan club
We also came across a pic where the mother-daughter duo is spotted at the famous balcony:
How many likes for this candid click of Aish & beti B
Here's another candid video of Aishwarya blowing kisses to Aaradhya who is watching her from the balcony, posted on L'Oreal Paris' official Twitter handle, watch below:



Precious moment from when #AishwaryaRaiBachchan spotted little Aaradhya at the balcony. ❤️ #AishwaryaAtCannes #LifeAtCannes pic.twitter.com/nIlNmgMzoV


— L'Oréal Paris India (@LOrealParisIn) May 20, 2017
Cannes 2017 was Aishwarya Rai's 16th year at the annual French Rivera and when she kissed her sunshine in front of the entire media, the diva reminded us that she is not only a big celebrity but also a doting mother.
Cannes queen with her princess Aaradhya[PIC CREDIT: Twitter/Loreal Paris India]