VIDEO! Sunny Leone breaks into tears remembering late crew member Prabhakar
Sunny Leone was addressing nasty remarks made by some trolls over her request she made last year to raise funds for the medical treatment of her crew member Prabhakar who needed kidney transplant but unfortunately died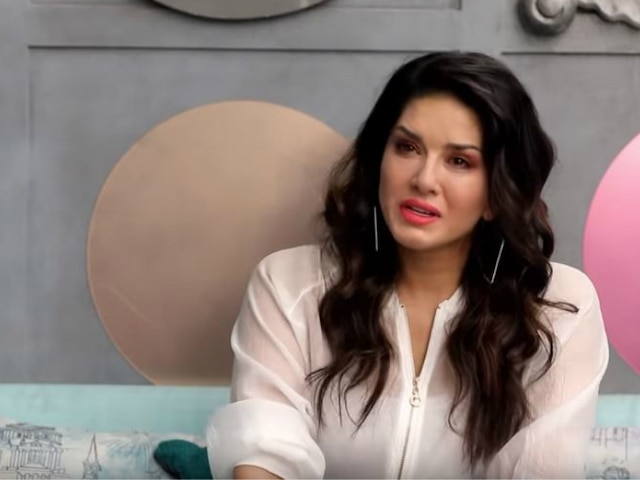 Sunny Leone was the latest guest on Arbaaz Khan's chat show 'Pinch by Arbaaz Khan' and the actress following the trend on th show, faced the messages written by the troll for her on social media. Sunny spoke about many things including her past but there was a moment when the hottie broke into tears getting emotional. It wasn't anything related to her own life but her late crew member named Prabhakar. Sunny had taken to social media in gone August to request people help her raise funds to aid Prabhakar's medical treatment. Sunny had shared Prabhakar's picture with her daughter Nisha Kaur Weber and urged for monetary aid for the person who was in dire need of a kidney transplant. She also mentioned that the funds raised would be used for his transplant surgery, doctor's consultation charges, post-operative care and medicines.
Sunny Leone with daughter Nisha Kaur Weber and late crew member Prabhakar
When Sunny on Arbaaz's show read out a message by troll, she couldn't contain her tears.


Arbaaz mentioned Prabhakar saying he was like a family member to Sunny and worked with her for the longest time. She adds it was 8 whole years that he worked with her. He then mentions the picture and message Sunny had posted on social media in regard with Prabhakar's treatment.

Arbaaz then read out a few "nasty" negative comments that were made on Sunny's post.

"When you can buy a mesaratti, you can also donate mere 20 lakh"

"Come on Sunny it's just 20 lakh. Your some shoes and bags worth 20 lakhs. Why are you asking for donations?"

"Your recent net income was estimated around 3 million $. You have to come here begging for someone that has been "loyal" to you. Really!!! You should be ashamed of yourself."

How do you react to such comments then? - asks Arbaaz.

Sunny replies- "Prabhakar was sick for a lot longer than when i posted this. And he was sick. Daniel(husband Daniel Weber) and I took care of all of his financial needs. All of the hospital bills and blood transfusions that he would have to do because he had kidney failure. His kidneys were not working.. may be...it was less than 10%. When you find out that your friend or someone you've been working with for so long, is going to die if we don't help him.. You go into a) panick[eyes start to well up] and he was working in this industry for a very very long time and lot of people love him. And it's not just his medical bills, it's his home, it's his family, lawyer bills because he had to apply for transplant, he has a son!"


Sunny Leone and husband Daniel Weber with their newborn twin sons Asher Singh Weber and Noah Sing Weber along with late Prabhakar

"What i wrote on there was a small amount than what actually needed to be done."

And by the next line Sunny started to choke and got into tears.

"There was so much that we wanted to do for him, there are so many things. And we failed. And he died![cries]"

Watch the video below: