Pulwama Terror Attack: 'Uri' actor Vicky Kaushal posts a smiling pic, TROLLED; Disheartened fans SLAM him!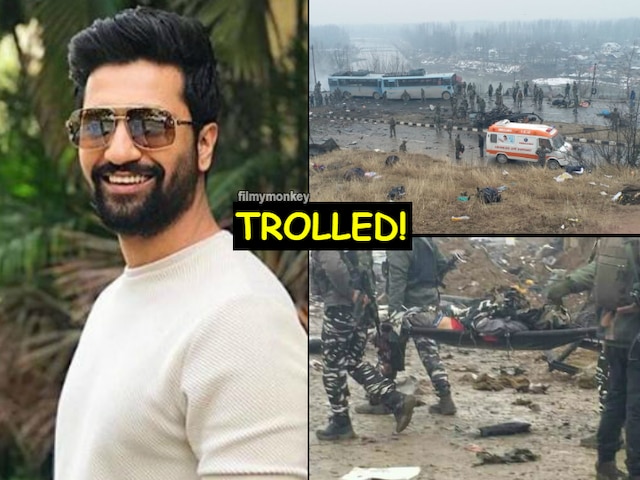 The deadliest terrorist attack in Kashmir's Pulwama district on the CRPF convoy on the Srinagar-Jammu National Highway on Thursday claiming 40 CRPF personnel's lives has shaken the nation. And while we just showed you how Bollywood actors like Akshay Kumar, Ajay Devgn, Swara Bhaskar, Abhishek Bachchan & others took to social media to express their anger over the cowardly attacks by Jaish-e-mohammed, the one celebrity we were really looking forward to hear from was Vicky Kaushal. Vicky's film 'Uri - The Surgical Strike' collected over 200 crores at the box office even going on to beat 'Baahubali' business in the 5th week recently.
Pulwama Terror Attack: "We can't let this be forgotten" -Akshay Kumar, Swara Bhaskar, Ajay Devgn & other Bollywood celebs shocked and saddened, React STRONGLY!
While all national news channels have been reporting live from the IED blast location in Kashmir for over 3 hours mentioning the past 'Uri' attacks too, upon visiting the film's star Vicky Kaushal's social media profiles, we were shocked to see his latest picture posted just an hour ago. Surprisingly he is flashing a big wide smile posing for the camera.









View this post on Instagram









Obviously the fans cannot digest this and the picture is being brutally trolled.
While some very innocently are asking him to conduct another surgical strike on Pakistan, the others are lashing out saying "you have no respect for soldiers" and "deshbhakti is just a business for them".
However there were also those who came out in his defense saying the accounts are handled by managers and the actor must be busy!
Check out how Vicky Kaushal's fans are reacting to his smiling picture he posted while India mourns the death of 40 jawans in the Kashmir Terror Attack: 
Fans get angry over Vicky Kaushla's smiling pic he posted while nation mourns 40 jawans' deaths in Pulwama Terror Attack
It was obvious for the fans to express their displeasure over Vicky's smiling pic posted at such a sensitive hour and we really wonder why the actor's profile look totally ignorant of the ghastly attacks.
We are looking for answers and so must be his fans!
The convoy that was attacked today, comprised 78 buses in which around 2500 personnel were travelling from Jammu to Srinagar. K Vijay Kumar, Advisor to Jammu and Kashmir Governor, told ANI that the death toll in the attack was around 40.
The convoy was targeted in Ladoora area on the new Expressway, CRPF Director General R P Bhatnagar told ANI.
A bus, in which 42 CRPF personnel were travelling, was extensively damaged in the blast which was followed by firing on the vehicle.
The cause of the blast is being ascertained, Bhatnagar added.
The injured have been shifted to a hospital, he added but refused to give the casualty figure.
This is the deadliest attack on security forces in Kashmir. Earlier in September 2016, an Army camp was stormed by terrorists in Uri, killing 19 soldiers. Prior to that 28 BSF personnel were killed in an attack on a convoy of the paramilitary force in 2004.
Pakistan-based terror outfit Jaish-e-Mohammad (JeM) claimed responsibility for the attack, saying it was caused by a suicide bomber, according to a local news agency.
(With inputs from agency)
IMP UPDATE:
After getting trolled, 'Uri' actor Vicky Kaushal finally tweets about the 'Pulwama Terror Attack'!