Raksha Bandhan 2019: "Finally Hans Gets a Rakhi This Year"- Sameera Reddy Sharing Newborn Daughter Nyra's Cute Pic With Big Brother!
'Race' actress Sameera Reddy gave birth to her second child with businessman husband Akshai Varde a month ago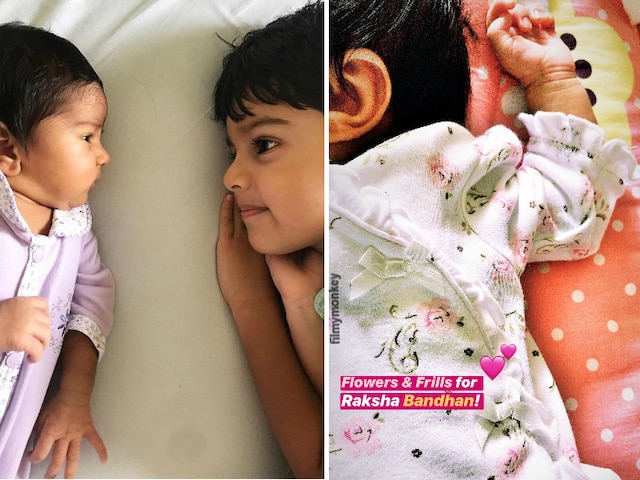 Bollywood actress Sameera Reddy who became mom to her second child, baby girl a month ago, just shared a beautiful picture of her newborn daughter Nyra Varde with her big brother Hans Varde on the occasion of Rakshabandhan and it is melting hearts. Sameera and her businessman husband Akshai Varde are now the proud parents of two kids and their children celebrated their first Raksha Bandhan and mommy's caption reads -
"Happy Raksha Bandhan ❤️ finally Hans gets a Rakhi this year ???? #sister #brother #hans#nyra #rakshabandhan #mybabies".
This is the most clear picture of Nyra that Sameera has shared yet, since her birth on July 12th. Nyra lies beside her brother Hans as the big bro looks adorably at the little sister in this latest picture.


She shared another picture on Insta story giving a close look at her 1 month old daughter's Raksha Bandhan attire. She writes in text over the pic -
"Flowers and frills for Raksha Bandhan".
Sameera's Insta story
Sameera had earlier shared during an interview that her s
on has become quite protective of his sister
.
Sameera had shared another cute picture holding daughter Nyra when she turned exactly one month old, three days ago. The mommy had captioned the picture -
"One month already ???? is the second time round easier? ???? absolutely not ! but soooo worth it ! #motherhood #newborn#herewegoagain ☕️"


Sameera and Akshai had tied the knot in January, 2014 and they welcomed their first child, son Hans in 2015.


Sameera Reddy kept the headlines buzzing with her updates during her second pregnancy phase and her photoshoot pictures were all over the internet too[
PICS: Pregnant Sameera Reddy Flaunts Bare Baby Bump In Her STUNNING Underwater Maternity Photoshoot
]. Sameera also spoke about the postpartum depression she had suffered during the birth of son Hans 3 years ago[
2nd time mom-to-be Sameera Reddy reveals she fell apart over increasing pregnancy-weight post first delivery!
]. Two weeks after delivering daughter Nyra, Sameera even 
posted a powerful message with a gorgeous picture of her's from an event revealing she has shape-wear spanx worn underneath
.