RIP Sridevi: Bollywood celebs Hrithik, Farhan, Geeta recall their first memories with Sridevi with UNSEEN PICS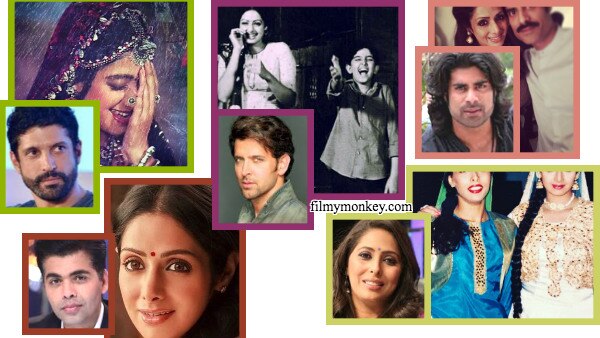 54 yr old Sridevi's untimely death shook the nation on Sunday morning and everyone including the fraternity members started to pour their hearts out with the tributes and memories for the legendary actress.
While many celebrities mourned Sridevi's death, there were a few who released some unseen precious memories with her and told the facts unknown as a tribute to her.
One of these was the superstar Hrithik Roshan who shared an unseen behind-the-scene picture with Sridevi from the sets of 1986 film 'Bhagwan Dada' in which he as a child actor played the role of lead actor Rajinikanth's adopted 12 yr old son.
Hrithik's message with this picture read -
"I loved her, admired her so much. My first ever acting shot was with Sri Devi, I was nervous in front of her and I remember her shaking her hands pretending to be nervous cause of me, just to boost my confidence. We had to laugh, and she kept laughing until I got it right. Will miss you mam."


Hrithik and Sridevi sharing a hearty laugh.. isn't the picture just too adorable beyond words which is also very heart breaking!
Sridevi succumbed to a massive heart attack on late Saturday night in Dubai where she was attending a family wedding this week.
Another Bollywood star who has a special memory to share about Sridevi is Farhan Akhtar. The 'Bhaag Milkha Bhaag' actor posted a picture of Sridevi's from 'Lamhe' and reveals that this movie was indeed his first job of his acting/filmmaking career.
He writes -
"My first job in 1990 was on 'Lamhe' and this song 'Megha re Megha' was the very first time I saw this legendary actor create her incredible magic on screen. 
From Sadma to Chalbaaz, from Mr.India to Chandni, it was impossible to take your eyes off her when she appeared on screen. 
A true star. A gifted actor. A woman with tremendous dignity. 
Gone too soon. RIP Sridevi. 
Sad sad day."


The famous choreographer Geeta Kapur who's currently seen as a judge on 'Super Dancer 2' also shares a set of unseen thrwoback pictures which is a double treat for fans since the very unrecognisable avatar of 'Geeta Maa' will also leave you amazed.
Without mentioning the name of the films these behind-the-scene moments were captured on, Geeta writes -
"Still waiting for some one to say it's not true !!! #gonetoosoon#queenofindiancinema #memories #sridevi#irreplaceable #rip (1963-2018) #sadma"
Geeta who started her career by assisting Farah Khan at a very young age, did feature in many Bollywood songs as a background dancer too. These pics are apparently from two such scenes.


And now check out what Sikandar Kher has to share from his childhood memories relating to Sridevi. Sikandar, who's the son of Sirdevi's co-actor from many films, Anupam Kher, shared a picture from recent times with her and wrote in caption -
"Only amazing memories with this lady.. my father worked with her in many films and I had the chance of being around her from a very young age.. she was fun and funny.. and what a phenomenal performer.. An indescribable loss to anything creative.. truly tragic.. gone too soon.. To peaceful beyonds.. #Sridevi"


Sridevi's body will be arriving in Mumbai today i.e. Monday and her cremation to take place after that in the noon.
Family and friends from the fraternity have been arriving at Anil Kapoor's house to pay their last respects[
IN PICS: Anil Kapoor & daughter Sonam Kapoor look shattered at the airport as they return back after Sridevi's sudden death!
].
IN PICS: Rekha arrives at Anil Kapoor's house to offer condolences to Sridevi's family!