Rishi Kapoor Finally Leaves Back For India? Spotted At NYC Airport With Wife Neetu Singh!
After successfully beating cancer, actor Rishi Kapoor who turns 67 today, spotted by a fan at NYC airport leaving US after 11 months of stay to get back to India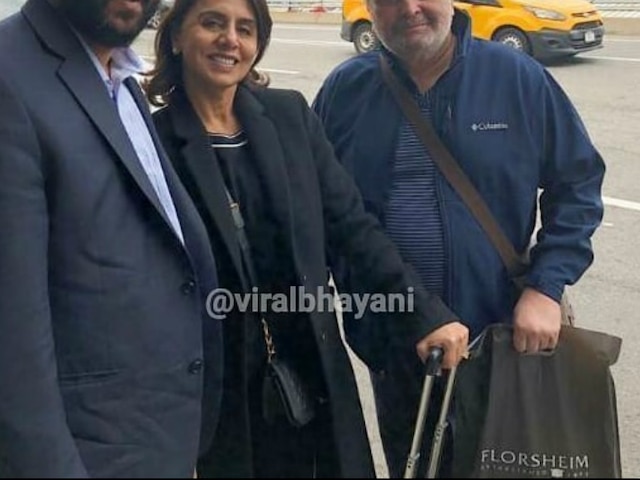 Just-turned 67, the veteran Bollywood actor Rishi Kapoor
had flown to the US in September end last year for his medical treatment
along with actress-wife Neetu Singh. While the actor's ailment was a mystery to all, it was revealed in April this year that Rishi Kapoor was battling cancer when his actor-brother Randhir Kapoor shared in
Arpil this year that he is "almost cancer free"
. Neetu Kapoor had also hinted the same in her New Year post but the family did not confirm until April. Neetu had written along with the family picture from NYC along with Alia Bhatt-
"Happy 2019 ???? no resolutions only wishes this year !!! Less pollution traffic!! Hope in future cancer is only a zodiac sign !!! No hatred less poverty loads of love togetherness happiness n most imp. Good health". 
Neetu recently opened up on Rishi Kapoor's health also sharing how actor-son Ranbir Kapoor reacted to father's cancer diagnosis [
'Ranbir Had Tears In Eyes'- Neetu REVEALS Son's REACTION On Rishi Kapoor's Cancer
]. And while everyone awaited his return anytime this month, the couple has apparently left for India already. A picture is shared from the NYC airport by a fan posing with the veteran Bollywood couple who also can be seen holding their luggage.
A popular paparazzi handle shared this picture saying in caption-
"Welcome back Rishi Sir ????. Our follower snapped #rishikapoor #neetusingh at the New York airport. Turkey are heading back home and are expected to touchdown Mumbai"
The fans are excited and happy to see the Bollywood's yesteryear star finally getting back home after his successfully beating cancer.


ALSO -
Rishi Kapoor turns 67, Daughter Riddhima Kapoor Sahni & B-Town post adorable Birthday wishes full of 'health and happiness'!
The fans are pouring out their hearts in the comments section, welcoming Rishi Kapoor back home.
Fans welcome Rishi Kapoor back home as the actor is spotted leaving for India at NYC airport with wife Neetu Singh
Fans welcome Rishi Kapoor back home as the actor is spotted leaving for India at NYC airport with wife Neetu Singh
Some of the followers also suspect it to be an old picture but by the look of the actor, it does not seem to be from any time in the past.


ALSO -
Malaika Arora, Arjun Kapoor Visit Rishi Kapoor, Neetu Singh In NYC
We really hope for this to be true and bet the country cannot wait to have their iconic Rishi Kapoor back on their soil in the perfect health.