Rising Star: Did Amitabh Bachchan "Simply" REACT to Rekha Spl show this Sunday? READ & WATCH HOW!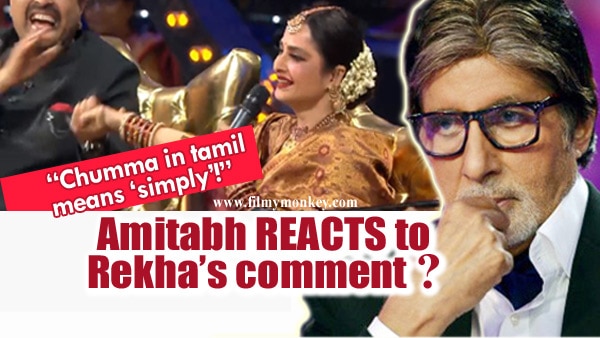 This Sunday the eternal Diva of  Bollywood, legendary actress Rekha was the guest on nation's only live singing show 'Rising Star' and she left us awestruck with her singing, humor, dance, dialogues and mesmerizing beauty.
Every time Rekha makes an appearance on a TV show, in more ways than one she makes us think of her love for Amitabh Bachchan by dropping various hints. However this time the evergreen beauty refrained from making any such mentions other than one.
The contestants sang iconic songs on Rekha-Spl and she mouthed many famous dialogues from her films too with lots of fun conversations with the judges Shankar, Monali Thakur, Diljit Dosanjh and the participants.








By the 45th minute in the show, Rekha crooned a Tamil song on judge Shankar Mahadevan's request and also explained the meaning of the song after finishing. While doing so when Shankar complimented her saying that she rocked the show, she said "chumma" to him in reaction.
Shankar clarified to everyone that the "chumma" she just used is actually not the hindi word that means 'Kiss' but a tamil term. Rekha further explains that it actually means "simply". She also happened to by mistake mention Big B's superhit song 'Jumma Chumma' from 'Hum' starring him and Kimi Katkar in lead. However she realized it in a second and said -
"Yes! it is not that jumma chumma[cringes]Oh sorry! national television![and places mic back on table and Shankar hi-fives with Rekha]..taali bajao sab...[She again picks up the mic saying]... it means simply.. aewayin..aewayin..!" (Watch video at bottom of this article!)
TV' star and show's host Ravi Dubey also joked about is saying
"chalo! abhi hum bhi mazey mazey mei chumma bol sakte hain because chumma means simply... simply!"
Amitabh and Rekha's love story has been the most mysterious one with neither of them ever having accepted it publicly and yet it never stopped creating buzz even till now.
ALSO-
Video! Soaked in Big B's love, Rekha made some shocking confessions in a throwback Interview
While Rekha has been hinting towards their past connection always, the 'Thugs Of Hindostan' actor has always remained tight-lipped about it but we just found out something never seen before.
Filmy Monkey just happened to notice something on Amitabh's social media page that was posted right after 'Rising Star Rekha-Spl' show got over and which connects uncannily with the show.
The portion where Rekha mentions Simply/Chumma, aired between 10.30 and 11.00pm in the night and about half an hour later there was a tweet by Amitabh that read...
"simply ..".
After 'simply' echoed multiple times on Rising Star, we were taken by surprise spotting the same on Amitabh Bachchan's timeline, that too within minutes of it's telecast.
He used it in his reply to a fanclub who posted a clip with Amitabh's films collage on Twitter at 11.24pm. (See below!)
Did Amitabh Bachchan hint he watched Rekha-Spl by tweeting "simply" after 'Rising Star' got over?



@SrBachchan KUCH PICHHLE FILMON KE RECORD.@ashokmistry4545 @ganeshlahoti @Ashabachchan @Swetaprasad19 @BeejalBhatt @KalaYadav3 @StLouisgirl123 @premdiplahoti @sanjay_patodiya @sureshjumani @Namrata1610 @RoHiTbhUToRIA @EfRakesh @juniorbachchan pic.twitter.com/mKgFdDzxMs


— ZAFAR.SUNDAY DARSHAN KING EF AMITABH BACHCHAN JI (@zafarkeymaker) March 24, 2018
Now that can also be a mere coincidence...! 'Mere' se yaad aaya... if you google typing 'tamil word chumma meaning', it shows 'simply' and 'merely' in results.
Rekha and Amitabh's wife Jaya Bachchan were never on cordial terms before but in recent years they were both seen interacting and greeting each other at an awards show[
PICS! Jaya Bachchan and Rekha hug at Star Screen Awards 2016
].
Even Rekha recently wrote a heartfelt letter for
Bachchan pariwar's bahu
Aishwarya Rai Bachchan in a leading magazine ending it with 'Rekha Maa'.
All such events give rise to speculations surrounding 'Silsila' lead stars' real-life love story and the latest that Filmy Monkey is the first to notice... --Amitabh's tweet hinting at Rekha-Spl show-- is sure to raise many eyebrows at them again!
Watch Rekha saying "simply" on 'Rising Star' below!


So, did Amitabh simply post "simply.." or was there more to it? This adds to the many more mysteries revolving around these two and which will remain unanswered forever....!
Give us your views on this article mentioning them in the comments section below!