Bishnoi Community to approach HC over Jodhpur Court's acquittal to Salman Khan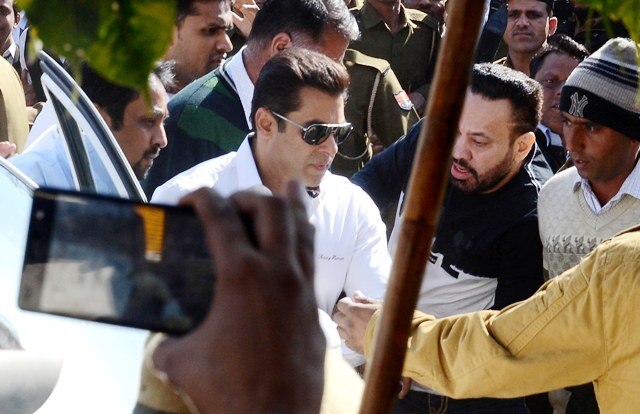 New Delhi: In a huge relief to Bollywood actor Salman Khan, the Jodhpur Court on Wednesday acquitted him in a 19-year-old Arms Act Case. This is one of the four cases against the actor. While the Rajasthan High Court has acquitted him in two cases of poaching of chinkara, trial in the third case of alleged poaching of two blackbucks is still on.
SALMAN KHAN ARMS ACT CASE LATEST UPDATES: 


We will approach High Court: Shivraj Bishnoi, President of Rajasthan's Bishnoi community on Jodhpur Court's acquittal to Salman Khan.


Thank you for all the support and good wishes, tweets Salman Khan.


Salman Khan (C) walks with officials as he leaves after a court appearance in Jodhpur on January 18, 2017.
An Indian court has acquitted Bollywood superstar Salman Khan of using unlicensed firearms to kill protected wildlife almost two decades ago, a lawyer said. Khan, 51, has now been acquitted in three out of four cases filed against him for hunting rare black bucks while he was shooting a film in the northwestern state of Rajasthan in 1998.
/ AFP PHOTO / STR



Thank you for all the support and good wishes


— Salman Khan (@BeingSalmanKhan) January 18, 2017

Rajasthan: Salman Khan's sister Alvira Khan leaves Jodhpur CJM Court after the Court acquitted the actor in the Arms Act case. pic.twitter.com/cZaQjGZpAV

— ANI (@ANI_news) January 18, 2017



Sister Alvira Khan breathed a sigh of relief, prayed for a moment and congratulated Salman Khan as soon as the judgement was pronounced, says his lawyer.


Salman Khan acquitted in the Arms Act case after the prosecution failed to provide conclusive evidence: Salman Khan's Lawyer


Police and Salman Khan's bodyguards escorting him to his car as fans try to throng around him.


Confirmed: #SalmanKhan acquitted by #JodhpurCourt in Arms Act Case


Salman Khan arrives at #JodhpurCourt https://t.co/diwoQM3GH1 #HarKhabarParPakad pic.twitter.com/Ly4svuCIQN

— ABP News (@abpnewstv) January 18, 2017


Salman Khan arrives at Jodhpur Court


Salman Khan asked by Jodhpur court to appear in 30 minutes


Fans of the Salman gathered in large numbers.


Salman Khan's sister Alvira Khan has reached the Court


Salman on his way to the court from his hotel. Reports say the actor was advised to change his car by his lawyer as the first one had tinted glasses which is not approved by law.


Security tightened outside Jodhpur court


Massive deployment of police outside the court


Chief Judicial Magistrate Dalpat Singh Rajpurohit, after completing the hearing on January 9 in a case registered in 1999, had reserved judgement for Wednesday.
Khan and his sister Alveera arrived in Jodhpur on Tuesday evening. He will be appearing in the court of the Chief Judicial Magistrate.
If convicted, the 51-year-old star would have faced a jail term of up to seven years.
The case against Salman was filed in October 1998 by the Rajasthan forest department for alleged use and possession of arms with expired licences for the poaching of two black bucks in Kankani village near Jodhpur.
The weapons involved were a .22 rifle and a .32 revolver. This is one of four cases against the actor of poaching endangered black bucks and chinkara in the Jodhpur region.
The case has dragged on for over 18 years since the poaching incident on the intervening night of October 1 and 2 in 1998. Salman was then shooting for Sooraj Barjatya's Hum Saath Saath Hain along with Saif Ali Khan, Tabu, Sonali Bendre and Neelam.
In March 2016, Salman had appeared in the Jodhpur court to plead innocence and claim false implication in the case. The final arguments started on December 9 last year.
Besides the cases of poaching of endangered antelopes under Wildlife (Protection) Act, a case under sections 3/25 and 3/27 of the Arms Act was filed against Khan for allegedly keeping and using the fire arms with expired licence in the poaching of blackbucks in Kankani near Jodhpur on October 1-2, 1998.
Arguments by both the sides in this case were completed on January 9, after which magistrate Dalpat Singh Rajpurohit reserved the judgement for January 18 directing the actor to be present in the court.
Before this, Khan had appeared in the court on March 10 last year for recording of his statements, wherein he had pleaded innocence and had stated that he had been framed in the case by the forest department.
His counsel H M Saraswat said, "We had argued in the court that there was no evidence that Khan was carrying fire arms either during his stay here or during alleged poaching. What he was found in possession with, were actually the air guns."
The defence also raised questions on the prosecution permission arguing that it was given by the then district magistrate Rajat Kumar Mishra and was not lawful.
Prosecution counsel B S Bhati, replying to the arguments, said that the prosecution permission was based on the facts and evidences furnished by the police in its investigation.
The case had reached the stage of judgement earlier on February 25, 2014 but sudden appearance of an undecided prosecution application before the trial court, moved by the then prosecution counsel in 2006 put off the verdict for two flat years.
Bishnoi Community
The Bishnois have never been numerically significant in Rajasthan. Being a small community, the Bishnois have not been able to act as a significant pressure group and present their case on a larger platform. They rose to much attention after the 1998 case.
The Bishnois' love and concern for the environment remain unspoilt. Theirs is a syncretic culture that has trained its people to forge an alliance between the divine and the natural worlds.
They have petitioned the government to amend the Wild Life Act, demanding the death penalty for crimes such as illegal felling and poaching. They have also asked for reserving jobs in the forest department for members of their community.