Sameera Reddy's Newborn Baby Girl Nyra Varde Turns Into A Flower In Her 1st Photo Shoot, Mommy Gets Son Hans Captured Too!
'Race' fame Bollywood actress Sameera Reddy just got a photoshoot done for her newborn baby girl Nyra Varde and shares some adorable behind-the-scene pictures also revealing she fought with postpartum anxiety during elder son Hans' birth so uses the opportunity to have some nice clicks of him too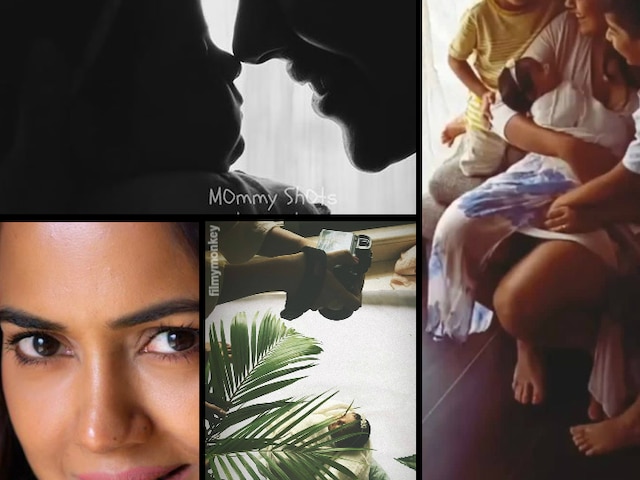 Bollywood actress Sameera Reddy, who's mostly remembered for her role in  'Race', recently became mom to her second child, a baby girl she and her husband Akshai Varde named Nyra. The stunning actress constantly remains in news and the last she made headlines for, was her revelation over Aamir Khan's Oscar nominated film 'Lagaan'. Sameera had shared with fans talking about her #imperfectlyperfect campaign she launched during her 2nd pregnancy that
she was offered a role in 'Lagaan' but she turned it down due to her stammering problem, in a video message.
She earlier revealed that
it was Hrithik Roshan who had helped her overcome the stammering issue
. Sameera, who even talked
openly about her postpartum depression
phase she had during her 1st pregnancy during birth of her elder child, son Hans Varde, is now beaming with the new confidence now, post 3 years. Sameera had a photo shoot done with her newly born daughter Nyra who will turn 2 months old on September 12th.
Sameera posted series of behind-the-scene pictures with her munchkin from the photoshoot as well as 4 yrs old son Hans sharing that she also did get her elder one clicked this time because she does not have his "single nice pic". She writes in caption- 
"I don't have a single nice pic of Hans when he was born because I had post partum anxiety at the time. This time I'm celebrating every second I can 🐣 and got some great pics of my Hansie too 🐥 #nyravarde ❤️ ."
She posted 1 picture on Instagram while the other 2 on her Insta-stories.
In the first picture which is silhouette, the mommy poses adorably with the daughter who has a head band on looking cute like a button.


In the second picture on Insta-story posted on Thursday night, we see Nyra being captured for a fabulous shot lying on the bed with leaves printed on it and the little wrapped in a white sheet made to look like possibly a flower. Sameera tagged Amrita Samant who's hands holding camera above Nyra shooting the top view are spotted in the picture too and who's a maternity, newborn and child photographer.
Sameera writes "My baby bear #shootlife" in text over the picture.
Sameera Reddy's gets newborn daughter Nyra Varde's photoshoot done
And in the 3rd picture, Sameera features carrying Nrya in her arms with Hans standing by her side and another kid accompanyig them in the frame. Everyone flashes a big wife smile making for an adorable shot.
Sameera Reddy's gets newborn daughter Nyra Varde's photoshoot done
Sameera Reddy's Newborn Daughter Nyra Varde's "Baby's Day Out" On 40th Day Post Birth!
Sameera tied the knot with businessman Akshai Varde in January 2014 and the couple had their first baby, son Hans born in the following year while Nyra arrived last month on July 12th.