Sameera Reddy Posts 11 Day Old Newborn Daughter's Pic Saying "How Stressful Breastfeeding Can Be!!"
'Race' actress Sameera Reddy and businessman Akshai Varde welcomed their second child, a baby girl on July 12th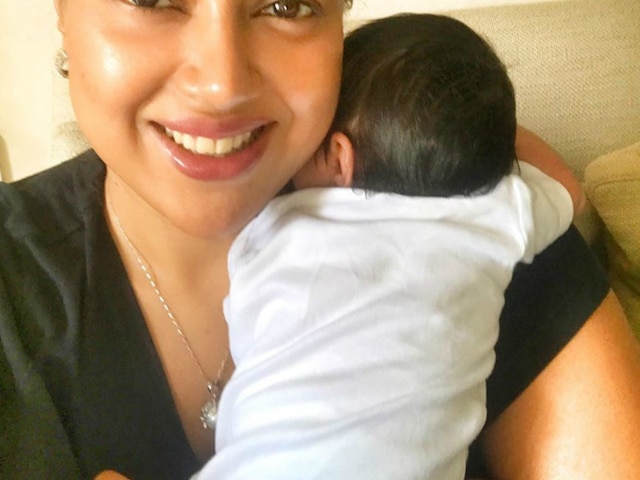 The 'Race' actress Sameera Reddy became a mommy for the second time on 12th July as she gave birth to beautiful baby girl with businessman husband Akshai Varde. The couple is now parents to two kids, a 4 yr old boy Hans and the newly arrived Princess who's yet to be named. Sameera has been sharing glimpses of her newborn since the day of her birth and here's a latest picture of the daughter that the mom shared an hour ago with a long message talking about how the breastfeeding is stressful and that it is ok formula feeding babies too.
"We're doing the best we can ! Ladoos to pumps I'm on job but damn it's really quite hard ![overheated face emoji]"-
wrote Sameera with the pic she posted flashes a big smile while holding the baby bundled-up-in-white close to her chest.
'Love At First Sight'- Sameera Reddy Shares ADORABLE PIC Of Son Hans Varde With His NEWBORN Sister
Her full message reads -
"Day 11 - Happiness galore with no sleep, colic and feeding round the clock ! I think I forgot how stressful breastfeeding can be !! I mean the pressure Is quite real and the whole top feed balance after a csec is hectic! I finally am exclusively feeding her but the whole process is something that should be natural but it's made to be very stressful . I realised with the feedback that a lot of women struggle with it . I think it's cool if a mom wants to move totally to formula or only BF or balance both . There is no shame and no one can define what's the perfect way . We're doing the best we can ! Ladoos to pumps I'm on job but damn it's really quite hard !????. 
#momlife ???? #hanginginthere #super #happy #tired #thrilled #motherhood #newborn #girl #babygirl #mom #newmom #again 
#breastfeeding#motherhood #imperfectlyperfect". 
For the unversed,
Infant formula, baby formula or just formula (American English) or baby milk, infant milk or first milk (British English), is a manufactured food designed and marketed for feeding to babies and infants under 12 months of age, usually prepared for bottle-feeding or cup-feeding from powder (mixed with water) or liquid (with or without additional water). -Wikipedia Info
Check out Sameera's post below:


ALSO -
TV Actress Returns To Work With BABY BOY two months after giving birth!
Sameera had shared another adorable picture two days ago of the big brother Hans who looked fascinated with his little sister while standing beside her. She had shared two more pictures before that of the newborn.
See below: 




Sameera also posted a picture of her's post delivery saying
"As part of my #imperfectlyperfect campaign I promised I'd share my post partum journey so here goes. It's really damn hard on the body when it's a c section because the stitches hurt like mad."


Sameera Reddy and Akshai Varde had tied the knot on January 21st, 2014 and their son was born in 2015.