Sameera Reddy Posts Throwback Pic From Teen Years Sharing She Was Stressed Over Losing Weight In Childhood
Sameera Reddy, who recently gave birth to her 2nd child, a baby girl, also laughs at herself when someone comments on her pic "aap to bohot healthy the"!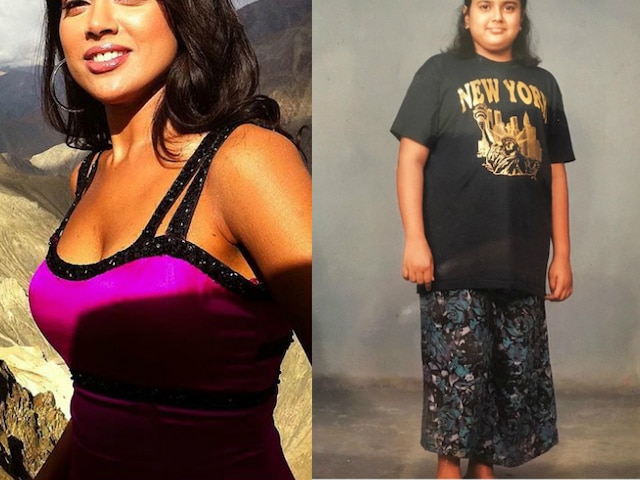 The 'Race'actress who recently became mommy to her 2nd child with businessman husband Akshai Varde, has just shared a throwback picture in which she is seen posing as a healthy teenage girl donning a black tshirt and lowers. The 2nd time mommy of a newborn daughter wrote in caption along with the picture -
"Guess who ? Age 13 . Tallest in her class and awkward as hell ! ????. #throwbackthursday #teengirl I wish Someone taught me to love myself and have a positive body image back then . Spent all my teen years stressing over ppl accepting me and losing weight ! #imperfectlyperfect".
Sameera had also recently revealed that she
underwent post partum depression after delivery of her first child, son Hans Varde back in 2014 over the huge weight gain
 which made her look almost unrecognizable. However, during her second pregnancy phase, the 'Musafir' actress gained her confidence back and gave out inspirational messages throughout the 9 months.
2nd time pregnant Sameera Reddy shares a throwback when she weighted 102 kg after 1st delivery with a strong message
And here's her latest picture, which she made fun of herself. Check out the pic first!


Sameera also updated her Insta-stories right after posting the above picture on Instagram and one story was about the reaction she got on it from someone which read - "Aap to bohot healthy the!". And you would laugh at what Sameera wrote on the picture commenting on the reaction. She wrote -
"I love how only in India we love using 'u look healthy' for weight gain[laughing crying emoji]".
Sameera Reddy's Insta-story
Sameera also showed her picture to her adorable 4 yr old son Hans asking him "who's that Hansu?" and the kiddo recognizes mommy saying "You!!!". Mom is surprised and she replies back saying - "Really? You can tell it's me?[boy nods in 'yes' and she laughs]".
Sameera Reddy's Insta-story
Sameera also shared another picture of her newborn daughter on Insta-story, captioning it - "Thursday mood" in which the baby is seen lying on a couch with sun rays entering the room in the background.
Sameera Reddy's Insta-story
Sameera also shared two days ago that she had "forgotten how stressful breastfeeding can be" reaching out to other women who face the same, with a picture holding her munchkin and a long note alongside.
Sameera Reddy Posts 11 Day Old Newborn Daughter's Pic Saying "How Stressful Breastfeeding Can Be!!"
Sameera Reddy and Akshai Varde had tied the knot on January 21st, 2014 and their son was born in 2015.