Sameera Reddy Reveals She Turned Down 'Lagaan' Due To Her Stammering, Shared A Video Message Promoting #Imperfectlyperfect Campaign!
'Race' actress Sameera Reddy who became mommy to her second child, a daughter Nyra Varde, last month, just revealed that she had turned down Oscar nominated Aamir Khan starrer 'Lagaan' which was directed by Ashutosh Gowariker, because she was "scared that people will find out that i cannot speak".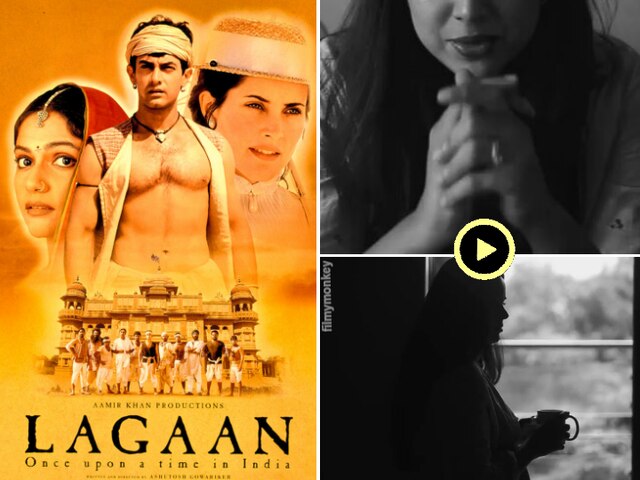 The stunning Sameera Reddy who was seen in films like 'Race', 'Darna Mana Hai' and 'Musafir' among others, is now a mother to two kids, with arrival of her daughter Nyra Varde last
month[Sameera Reddy's newborn daughter Nyra Varde's "baby's day out" on Friday, 40 days after birth!].
Sameera, who was in news throughout her second pregnancy owing to her Instagram posts she made keeping fans updated but, made headlines early this week for an altogether different reason which was a revelation about her stammering problem. Sameera revealed during a chat show that she struggled with a stammering problem and
it was Hrithik Roshan who helped her overcome it.
And now Sameera has another huge revelation to make which is related to her stammering. Sameera posted a video on Instagram an hour ago as part of her #imperfectlyperfect campaign and addressing the fans in it, she reveals that the was offered 'Lagaan'. Not only this, she also goes on to confess that she turned down Ashutosh Gowarikar's Oscar nominated film 'Lagaan' which starred Aamir Khan-Gracy Singh in lead roles, due to her stammering problem fearing
"everyone would get to know i cannot speak".
She says in the video:
"I am a stammerer and i'm imperfectly perfect. So, when someone asked me my i started this campaign, i said that i was fed up of being a fake! Also fed up of showing people that i was a sexy girl who had it together and i just don't have it together. I make mistakes like everybody else. But then somebody said how come you're just baring it all and have you really bared it all and i said you know what i haven't! I haven't come out with that one damn thing that has ruined my life since i was a kid and that is stammering! I know you won't believe me but i could not complete even one line. I used to go like 'k..k..k....' and people used to complete my words for me i and used to cry because i couldn't...! I mean speech is supposed to be normal man! It's like breathing. And a stammerer will understand it's not...it's not normal and people really make fun of you and they bully you and i have come a long way from there. The reason i can speak so well today is because i am confident and i've had to work at it like a maniac. So yes, is it a flaw? Yes! Did it get me to where i am, hell yeah! Because i worked really hard at it. Did i make mistakes!!!!?".


And then she went on to reveal an unknown fact about 'Lagaan' yet, which is that she was approached for the film.
She further adds-
"I turned down Lagaan..ok!!! Not like it came to me on a platter, i went i met the director(Ashutosh), he really liked me and Ashutosh Gowarikar still today when he meets me he says 'Sameera, you know you could've done 'Lagaan'!' And i'm like yeah man! But i wanna tell him today the reason i didn't do it not because i was obnoxious.. I was scared shitless!!! I was so scared of being judged, i was so scared that people will find out that i cannot speak. And that's why i didn't do 'Lagaan' which could've been the biggest movie of my life."




"So i'm saying if you have a flaw and you think that it's stopping you, don't make the mistakes i did, don't get scared, don't wait too long, don't say know when opportunity knocks at your door dammit grab it! And that's why #imperfectlyperfect is here with me to tell you guys, it's ok, it's ok to own it, own your flaws, i have! Imperfectly perfect!".
Sameer shared the video, captioning -
"Your fears are your paper tigers. How many of you are willing to tear them?".
Watch video below: 


Earlier, Sameera had revealed how Hrithik helped her deal with stammering, on a chat show, saying- "
Due to my stammering problem, I would hesitate to speak in front of others, and (would hesitate) going for auditions thinking that people would judge me. Hrithik, being the sweet and caring person he is, noticed this, and gave me a book that changed my life. It helped me overcome my fear. Gradually, I started noticing changes in my speech. I also went to a speech therapist and started working on my speech. I cannot thank Hrithik enough for that book and I still have it with me". 
Sameera is now married to businessman Akshai Varde and the couple is proud parents of two children, elder one, a son named Hans Varde who's 4 years old and their daughter Nyra Varde was born last month on July 12th.