Sameera Reddy Reveals Her Newborn Daughter's Name With Son Hans Varde
Sameera Reddy and husband Akshai Varde welcomed their second child, a baby girl on July 12th and 3 weeks after her birth, the mommy reveals they named her Nyra Varde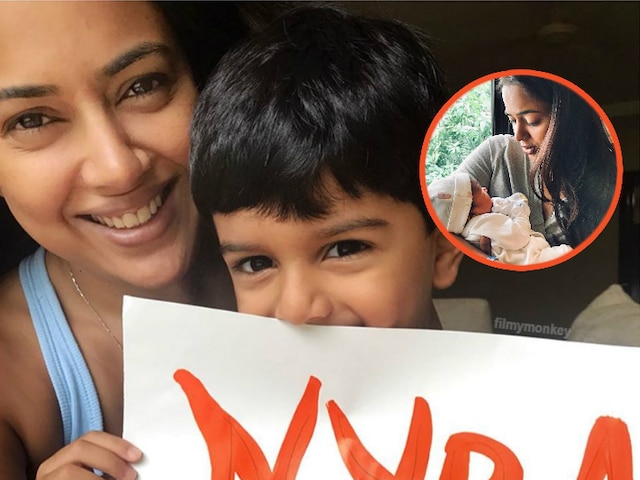 'Race' actress Sameera Reddy recently
became mommy to her second child with businessman husband Akshai Varde
and while she shared glimpses of the newborn in the past two weeks, she still was waiting to name her. Sameera and Akshai's first child, their 4 yrs old son is named Hans and the mommy along with the big bro of her baby girl, have just showed up on Instagram announcing the name of the daughter. Sameera and Hans flashing a big smile, hold a big sheet of paper in their hands with the name written on it 'Nyra'. So now Hans has the little sister named Nyra Varde. Sameera captioned the picture -
"Welcoming our lil lady to the the Varde family, baby girl 'Nyra' ???? . #blessed #grace #love #family ????????".
She shared two pictures in the multiple-photo post.
Check out below:
[Swipe to view both pics!]


Sameera also shared the meaning of 'Nyra' via her Instagram-Story. She posted a screenshot of the information she fetched probably online carrying the full meaning.
It reads -
"Nyra is a Indian baby girl name with the meaning: 'Beauty of Goddess Saraswati'. The baby name Nyra is claimed to be of Hebrew origin meaning "plant". Nyra is also said to have an American origin with the meaning "night border"."
She added her comment in text reading -
"I don't get night border. Plant?? Beauty of Goddess Saraswati[starry eyed emoji]."
Sameera Reddy names her newborn daughter 'Nyra'
Sameera gave birth to her daughter on July 12th about 3 weeks ago and has given a sneak peek into the newborn by sharing pictures with her keeping the face from showing.


Sameera made news just a day ago with her latest public appearance as she looked stunning with all her postpartum bulges held inside the spanx. The actress herself admitted wearing shapewear to hide post delivery bulge and the fans were left surprised and were lauding her for openly accepting it.
3 weeks after delivery, Sameera Reddy wears shapewear spanx to hold her postpartum bulges leaving fans surprised!
Sameera, who was last seen in 2012 film 'Tezz', married businessman Akshai Varde in 2014. They became parents to their first child, Hans, in 2015. The second one is now just over two weeks old and the mother has been keeping fans updated enjoying being 2nd-time-mommy. Sameera shared a
pic holding her newborn close to her chest, saying she forgot how stressful can breastfeeding be
, inspiring other mothers to take it easy. She also shared the
pictures of her postpartum #imperfectlyperfect body
sharing yet another inspirational message. It is important to know here that the actress during her
2nd pregnancy had confessed she suffered from postpartum depression
during the 1st one when the huge weight gain made her look almost unrecognizable back in 2014. After delivering her son, Sameera said she touched 102 kg.
"From being that 'sexy Sam', I went to this. I put on 32 kg up and couldn't recognize myself. I was a complete mess,"
added the actress, who has featured in films like "Race", "No Entry" and "Taxi Number 9211".
But Sameera has a long way since and even did an underwater photoshoot days before her daughter was born, early this month.


MORE Pics: 
Pregnant Sameera Reddy Flaunts Bare Baby Bump In Her STUNNING Underwater Maternity Photoshoot



View this post on Instagram