Sameera Reddy Goes Shopping In A Mall With Newborn Daughter Nyra Varde, Poses On The Escalator Sharing Message For International Babywearing Week!
Sameera Reddy shared pic carrying newborn daughter Nyra Varde at a mall on International Babywearing Week!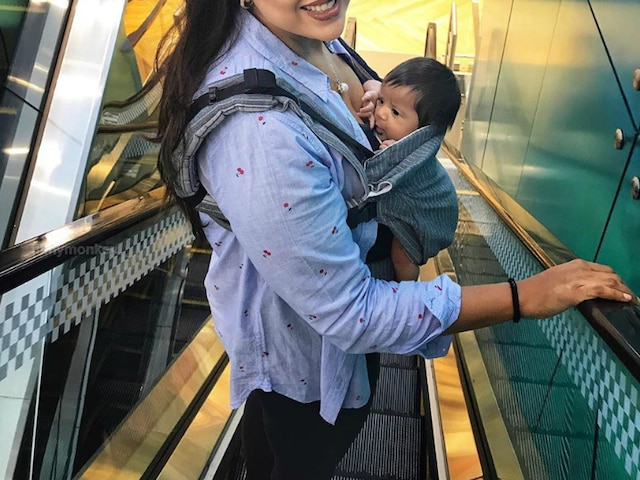 With the arrival of her second child, a baby girl in July, Bollywood actress Sameera Reddy is now a mom to two kids with her businessman husband Akshai Varde. The 3 months old little princess has been accompanying mommy to work and even at shopping as the 'Race' actress keeps her strapped on to her in a baby carrier and does all the work carrying her around. The two mommy-daughter duo even went hiking recently. Sameera has been sharing pictures of her newborn on social media and the latest she shared from a mall while running the errands. Sameera informs her followers on Instagram that it is International Babywearing Week 2019 from Oct 6 to 12th. Sameera standing at the escalator with the adorable munchkin baby held close to her in a baby carrier, is all smiles in the picture.
She captions it-
"I'm proud to be a babywearing mother! Did you guys know it was International Babywearing Week? A term I only understood recently! I cannot tell you how liberating it is to have her strapped on and just do my thing ! Mommies please don't sit at home! Run your errands ! Get active! #internationalbabywearingweek #imperfectlyperfect @soulslings_india #soulaseema #babywearing #breastfeeding #momonthego #activemom #feelgood".



View this post on Instagram
That must inspire so many new moms!
And the followers are already loving Sameera's post. Here's how the fans are reacting to Sameera's pictures and the message.
Fans react to Sameera's post
Fans react to Sameera's post
Sameera had recently visited the highest peak Mullayanagiri Peak in Karnataka along with her 4 yr old son Hans Varde and daughter Nyra while attempting to climb it with baby in the carrier. She posted a video saying she had to stop midway because she was out of breath.
Sameera Reddy attempts Climbing Tallest Peak In Karnataka Carrying Newborn Daughter Nyra Varde, Posts VIDEO!
Sameera had been very active on social media through her pregnancy and she also made a huge revelation over Aamir Khan's Oscar nominated film 'Lagaan' recently, saying 
she was offered a role in the film too but she had turned down the offer fearing that the world would get to know about her stammering problem.
 And Sameera had also revealed that it was 
Hrithik Roshan who had then helped her 
deal with the stammer problem by gifting her a book.
Sameera, who even talked 
openly about her postpartum depression 
phase during her 1st pregnancy during birth of her elder child, son Hans Varde, is now beaming with the new confidence.