'Love At First Sight'- Sameera Reddy Shares ADORABLE PIC Of Son Hans Varde With His NEWBORN Sister
Sameera Reddy shared a cute photo of her son Hans Varde and newborn daughter and it is all about innocence.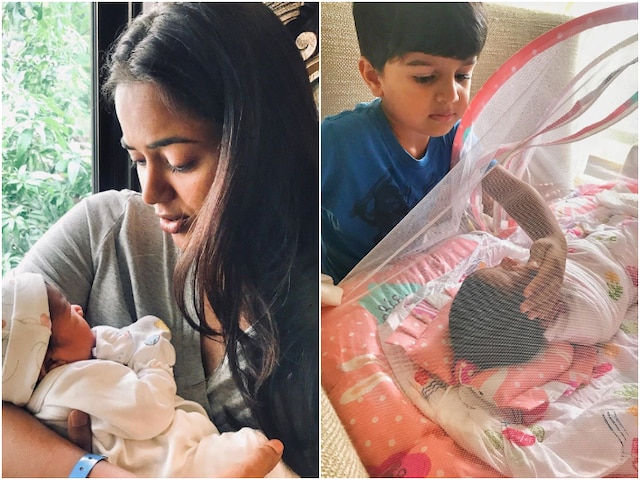 New Delhi:
Bollywood actress Sameera Reddy and her husband Akshai Varde
became parents of a baby girl
on July 12. The 'Race' actress, who embraced motherhood for the second time, is quite excited after the arrival of a little bundle of joy into her life. Sameera had earlier shared a
cute photo of her newborn daughter
on social media and her new Instagram post will definitely bring a smile to your face.
The second time mommy shared an adorable photo of her son Hans Varde and daughter. Going by Sameera' post, it seems Hans has taken the responsibility of a big brother quite seriously. The actress had even revealed in an interview that her s
on has become quite protective of his sister
.
The caption for the post read, '' Love at first sight ???? he is so fascinated with her it's too sweet. Sunday mornings! #family #myson #mydaughter #mylife #momlife #blessed.''
Check out the photo!



View this post on Instagram
Sameera had earlier shared the
problems faced by a new mother in their postpartum period
.
She wrote, '' As part of my #imperfectlyperfect campaign I promised I'd share my post partum journey so here goes. It's really damn hard on the body when it's a c section because the stitches hurt like mad. Nothing can ready you for the sleepless nights of endless feeding and your body just feels so out of whack it can really get you down. The tummy swelling takes a while to go and this is day 5 post delivery . Im thrilled to have my daughter in my arms but I can't help but feel hormonally challenged because of all the changes. It all bounces back and that's the silver lining ! #postpartum #keepingitreal #nofilter #positivebodyimage #postpregnancybody #postpregnancy #socialforgood #selflove #loveyourself #bodypositive #herewegoagain #imperfectlyperfect.''



View this post on Instagram
Now, have a look at the post where Sameera Reddy announced the arrival of her daughter.



View this post on Instagram
Sameera had enjoyed her pregnancy phase to the fullest and she kept on sharing pictures, flaunting her baby bump. The 'De Dana Dhan' actress also gave positive messages to all the mothers out there and made waves, all thanks to her 
underwater maternity shoot
.



View this post on Instagram
Sameera Reddy and Akshai Varde got married on January 21, 2014 and their son was born in 2015. On the professional front, the actress was last seen on the silver screen in Kannada film 'Varadhanayaka'.
Watch this space for more updates!