Sameera Reddy Shares Newborn Daughter Nyra Varde's First Clear Picture From The Latest Photoshoot
Bollywood actress Sameera Reddy and her businessman hubby Akshai Varde's 2 months old daughter Nyra looks adorable bundled in green in her first photo shoot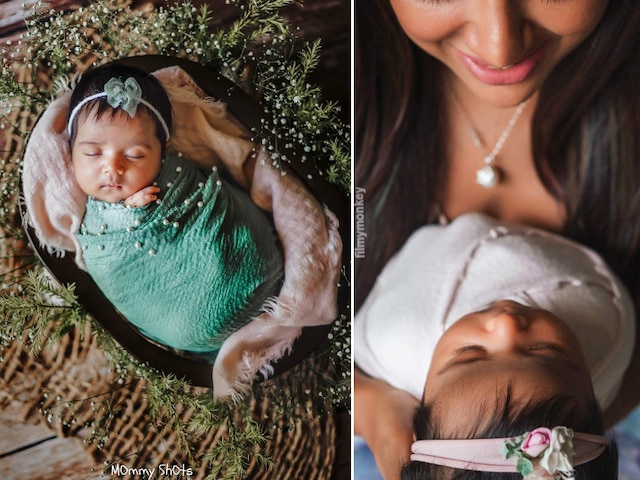 'Race' actress Sameera Reddy, who became mom to her second child, baby girl Nyra with businessman husband Akshai Varde in July, had
shared some glimpses
from the photoshoot she did with the newborn a while ago and now she finally posts a full frontal picture revealing little princess' full face. Nyra Varde arrived on July 12th and a little over 2 months old baby looks cute-beyond-words, prove her latest picture mommy shared on Instagram. Sameera made headlines early this week for attempting to climb the tallest peak in Karnataka while carrying her newborn daughter in the baby carrier and the video inspired many[
Sameera Reddy attempts Climbing 'Mullayanagiri' The Tallest Peak In Karnataka Carrying Newborn Daughter Nyra Varde, Posts VIDEO!
]. The mother of two, 5 yr old son Hans, and now a daughter, Sameera is very active on social media and keeps treating fans with adorable pictures posing with her family.
Sameera posted this new picture of baby Nyra who's kept bundled in green inside a basket for the photo shoot and wrote in caption-
"I've been waiting for you all my life ❤️ #nyravarde . ???? @mommyshotsbyamrita".


Sameera had recently also made a huge revelation over Aamir Khan's Oscar nominated film 'Lagaan', saying
she was offered a role in the film too but she had turned down the offer fearing that the world would get to know about her stammering problem.
And Sameera had also revealed that it was
Hrithik Roshan who had then helped her
deal with the stammer problem by gifting her a book.
Sameera, who even talked 
openly about her postpartum depression 
phase during her 1st pregnancy during birth of her elder child, son Hans Varde, is now beaming with the new confidence.


While sharing the behind-the-scene glimpses from her newborn daughter's photo shoot in August, she confessed that she doesn't have a single nice picture of her elder son Hans since she fought post partum depression then. She had written- 
"I don't have a single nice pic of Hans when he was born because I had post partum anxiety at the time. This time I'm celebrating every second I can ???? and got some great pics of my Hansie too ???? #nyravarde ❤️ ."
Sameera Reddy's Newborn Baby Girl Nyra Varde Turns Into A Flower In Her 1st Photo Shoot, Mommy Gets Son Hans Captured Too!
Here's are some more latest pictures Sameera shared with her newborn daughter and elder son Hans, on Instagram: