Sameera Reddy Shares The FIRST PIC Of Her Newborn Daughter 3 Days After Her Birth!
Sameera gave birth to her second child, a baby girl with businessman husband Akshai Varde on July 12th and she had said taking about who does the daughter look that "she hasn't come out dusky like me. She is fair and lovely!"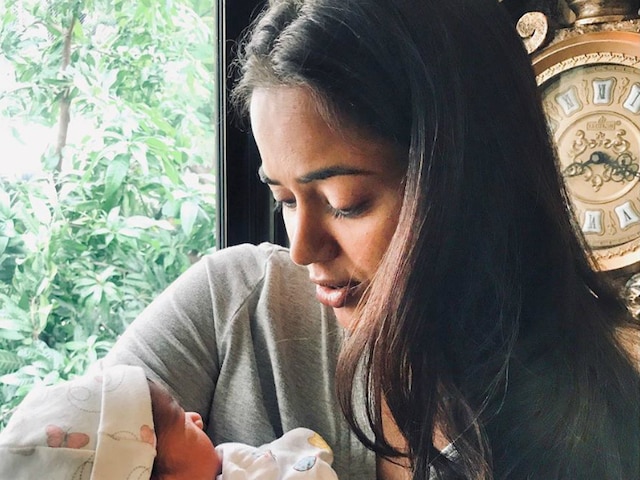 Bollywood actress who appeared in multiple films like 'Race',
became mommy to her second child with businessman husband Akshai Varde on July 12th
and while she shared a glimpse of her newborn daughter on the day of her birth, she had now posted a full picture of her princess on social media. Sameera and Akshai already have a son named Hans Varde who was born in 2015 and the couple had prayed for their next to be a baby girl. The 2nd time mommy is happy their family is finally complete as she writes along with her picture with the daughter-
"This little girl gave me the strength of wild horses. She wanted me to find myself again. She knew I was lost and she showed me the way. I found a voice in celebrating motherhood, wanting change on body perception and the best part was reaching out to people to just feel good about themselves . I'm so happy that people felt so connected and supported me to get here ! We prayed for a #babygirl [cherry blossom emoji + folded hands emoji] and we are #blessed ! #baby #pink #itsagirl #motherhood #mom #sleeplessnights#herewegoagain [rainbow emoji]".
In the picture, Sameera is adorably holding her newborn in her arms looking at daughter who's bundled in white.


Sameera had said in her interview given to a portal after her daughter's arrival, when asked who does the little one look like, 
" Well, she hasn't come out dusky like me. She is fair and lovely". 
She also told Spotboye that the big brother Hans is protective of his little sister -
"My husband clicked pictures in the labour room. He clicked his first selfie with our daughter."
'My Son Has Become Protective Of His Sister'- Sameera Reddy OPENS UP On Her NEWBORN Baby Girl
Sameera is yet to share what they named their daughter.




Sameera, who recently made waves
with her underwater photoshoot flaunting huge baby bump
just days before the delivery, had shared 
during an event 3 months ago that she was wishing that their second baby is a girl 
since they already have a son.
"Dua hai ki.. i hope.. .already mere paas ek chhota bohot hi sweet ladka hai..Hans! Aur Hans is also a motorcyclist in his head.. abhi age 3 pe hi unko bohot shauk hai papa jaise he wants to get on to the motorcycle..but.. i'm hoping it's a girl but its all in the hands of God[looks up]".
" The prayers are answered and the parents finally welcome a daughter next.
Sameera's husband Akshai is the owner of a company named Vardenchi and it was 
the launch event for Vardenchi's first bike lifestyle store 
in Mumbai which was attended by celebrities Suniel Shetty, Gul Panag, Gauahar Khan and Karan Tacker.
'De Dana Dan' actress had announced the arrival of her baby girl 3 days ago on Instagram with the picture of holding her newborn's hand and wrote-
"Our little angel came this morning ????My Baby girl ! Thank you for all the love and blessings ❤️???????? #blessed".


Sameera Reddy and Akshai Varde had tied the knot on January 21st, 2014 and their son was born in 2015.