Two weeks After Delivery, Sameera Reddy Wears Shapewear Spanx To Hold Her Postpartum Bulges Leaving Fans Surprised!
Sameera Reddy and businessman husband Akshai Varde became parents to their second child, a baby girl on July 12th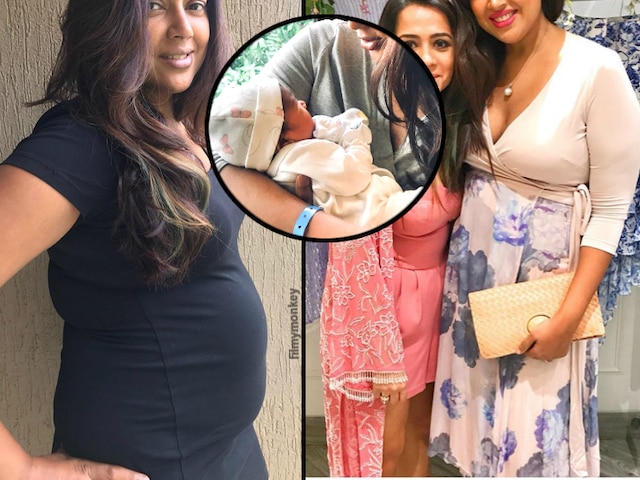 'Race' actress Sameera Reddy became mommy to her second child, a baby girl, on July 12th with her businessman husband Akshai Varde. The actress had been constantly updating her pregnancy phase on Instagram and the 2nd time mommy continues to do so post delivery too. Sameera had earlier
shared how she went through postpartum depression
during her first baby, son Hans Varde's delivery 4 years ago, which resulted in huge weight gain making her look almost unrecognizable. She however have a come a long way since then and inspired other women during her 2nd pregnancy to embrace their bodies. Sameera also shared her recent picture post second delivery flaunting the bulge her body has gained while wearing a big wide smile on her face. And days later, Sameera now shares her picture looking stunning with far more toned body but she reveals it is with the use of the spanx.



View this post on Instagram
Sameera Reddy Posts Throwback Pic From Teen Years As A Chubby girl Sharing She Was Stressed Over Losing Weight In Childhood
Sameera Reddy attended an event celebrating 10 years of designer Masaba Gupta's 'House of Masaba' launch on Monday. Sameera donned a knee high beautiful dress with heels in her feet. Sameera posted series of pictures and wrote in caption -
"Disclaimer- Ladies I'm wearing some killer shapewear @spanx  Holding all my lovely #postpartum bulges in this pregnancy I'm feeling so much better with the body changes . Acceptance is so important because it's going to be a while before I get back in shape . And that too will be a different version from what I was and I've got to embrace it  #postpartumbody #imperfectlyperfect".
In one of the pictures, Sameea poses with 
Masaba, the daughter of veteran actress Neena Gupta
recently seen in 'Badhaai Ho' while in the others she strikes beautiful poses looking gorgeous. And it is the shapewear spanx underneath that's done the magic. She has no qualms in accepting it or revealing about it and the fans are surprised as much.
[swipe to view all pics!]



View this post on Instagram
Sameera has left fans in shock as it is hardly the case when a celebrity openly admits to using spanx for body-shape. They have been posting comments praising, asking questions and expressing awe for the actress and she has been individually answering many of them.
Fan -
"Doesn't the stitches pain with shape wear"
Sameera -
"nope"
Fan -
"Huge fan since vaaranam aayiram...how I wish I had followed you during my pregnancy...you are definitely a great support system for all moms out there ...keep inspiring ❤️"
Sameera -
"[hug emoji]"
Fan -
"With celebrities promoting same things these days, this is something new, connectable and normal. Feels good to know you are like any other normal person[thumbs up emoji]"
Sameera -
"[folded hands emoji]"
Fan -
"You actually admitted and used the "s" word Spanx...that too being a celebrity well speechless."
Sameera -
"[upside-down face emoji]"
Fan -
"Looking lovely! #NoShameinMomBody#MomisthebestShapeEver. That smile never changes though! ❤️"
Sameera -
"love the hashtags!"
As the actress continues to read the comments by fans who are surprised, a day later she took to Instagram stories and posted the same picture writing in text on it -
"Why are people surpised i admitted wearing Spanx!". 
Sameera Reddy Insta-story
ALSO -
Sameera Reddy Posts 11 Day Old Newborn Daughter's Pic Saying "How Stressful Breastfeeding Can Be!!"
And for those who still wonder what is and how does it look... the shapewear!
See pic below:
Pic Source: www.spanx.com
Sameera Reddy and Akshai Varde had tied the knot on January 21st, 2014 and their son was born in 2015.


UPDATE YOU DON'T WANT TO MISS-
Sameera and son Hans pose together announcing the name of the newborn, which is Nyra Varde!
Here, take a look at some of Sameera's latest pictures on Instagram: