Sameera Reddy's Newborn Daughter Nyra Varde's "Baby's Day Out" On 40th Day Post Birth!
'Race' actress Sameera Reddy steps out of house with her newborn baby girl for the first time after delivering her 40 day ago.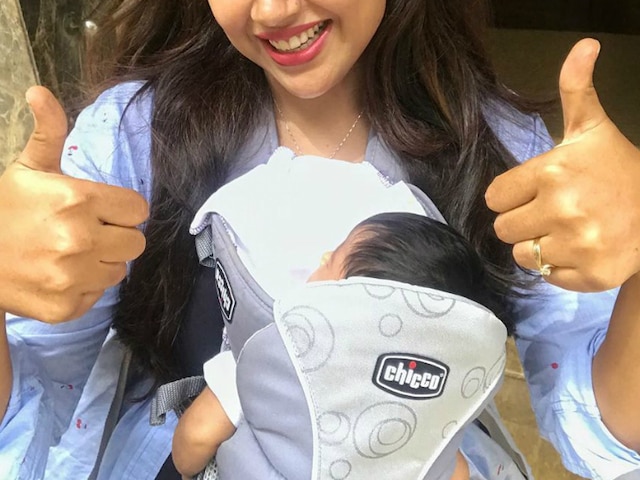 'Race' actress Sameera Reddy became mother to her second child, a baby girl, with husband Akshai Varde on July 12th last month and 40 days after Nyra Varde's birth, the mommy-daughter duo just headed out of their home. Sameera, who has been posting adorable pictures of her newborn daughter with the elder son Hans Varde, posted a fresh picture from their outing in which the mommy can be seen carrying her munchkin in a baby carrier while flashing the thumbs up sign with both her hands. Sameera captioned the adorable picture -
"40 days done ????it's baby's day out! It's a bright shiny day & lil Nyra is lovin it????so nice to be mobile ???? #babysdayout#momlifebelike #letsdothis".
Sameera flashes a big smile donning a blue shirt with head band on her head.


Sameera, who revealed during her second pregnancy that
she dealt with postpartum depression 4 years ago while pregnant with her first child
, son Hans, is now a confident mom spreading powerful positive messages for the moms and moms-to-be through her social media profiles. Sameera has been attending events post delivering Nyra and even revealed in
one of her posts that she indeed has a shapewear spanx underneath "holding all my lovely #postpartum bulges",
while posing in her #OTD looking gorgeous in a dress. Both her kids also celebrated their first Rakshbandhan together and the actress shared a cute picture of them captioning it -
"Happy Raksha Bandhan ❤️ finally Hans gets a Rakhi this year ????".


ALSO: PICS: Pregnant Sameera Reddy Flaunts Bare Baby Bump In Her STUNNING Underwater Maternity Photoshoot
Sameera got married to husband Akshai Varde who
recently launched his Vardenchi(a custom designer bikes company) flagship store in Mumbai
, in January 2014 and their first child, son Hans, was born in 2015.
UPDATE -
Sameera Reddy reveals she turned down 'Lagaan' due to her stammering, Shared in a video message carrying #Imperfectlyperfect campaign!