Sanjay Dutt's daughter Trishala turn 30, Here's how Maanayata wished her!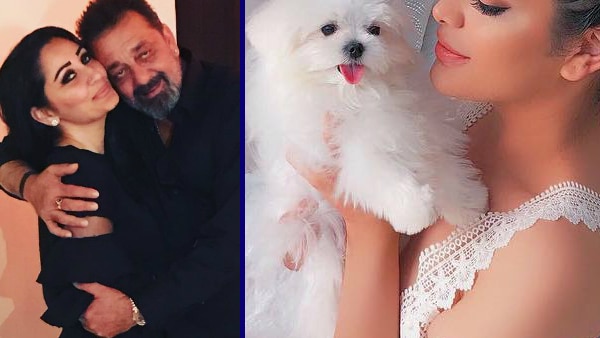 Sanjay Dutt's gorgeous eldest daughter Trishala Dutt, born to his late wife Richa Sharma, has just turned 30 and she shares a beautiful picture of her's cuddling her pet dog with a long note counting her blessing on the occasion. Trishala and her step mom Maanayata, the third wife of Sanjay Dutt's, share a good bond and while Trishala took to her Instagram to shared her 30th Birthday post, Maanayata's reaction to it is winning hearts.
Trishala who stays in the US with her maternal grandparents since her mother's demise due to brain tumor in 1996, looks hot posing in her bed with her cute Maltese dog named Wolfgang in her arms and wrote alongside the picture - "#30 🎂☀️ — thank you God for blessing me with life, for making me the happiest I've ever been, and for keeping me alive, happy, and most importantly, healthy. Thank you everyone for all your love, sweet comments, thoughtful texts, & phone calls that made my day so special. Thank you IG fam 💕 for loving & supporting my family & I since day 1. I appreciate all of you more than you know. Today feels amazing, I can't wait to celebrate later, and I can't wait to create beautiful new memories in this next chapter of my life 🎈will upload more pics and get back to you all in a bit 🙏🏻—".

She then introduces her Insta fam to her dog and writes ahead - "btw for those wondering, this is WolfGang! 🐶 he's a teacup Maltese, weighs 2.5lbs (1.17kgs), and was born in Korea! He licks my tears, senses all my emotions, manages my anxiety, and has the sweetest little soul that gives me unconditional love on a daily basis...a true angel. #teamleo#flirtythirtyandthriving #0810".






While the fans poured in beautiful wishes wishing Trishala a Happy 30th birthday, her step mother Maanayata also turned up and showered her with blessings and love.

Maanayata's comment on Trishala's post read - "Happy happy to you my darling!!! Wishing you the choicest of blessings my love ❤️❤️❤️❤️".


Maanayata Dutt's beautiful wishes for step daughter Trishala Dutt's 30th birthday

ALSO - Sanjay Dutt's daughter Trishala REVEALS about B'wood debut, Khloe Kardashina resemblance & more… in 'Instagram Ask a Question'

Sanjay Dutt had married Trishala's mother Richa Sharma in 1987 who died of a brain tumour in 1996. He then married Rhea Pillai in 1998 and the couple divorced in 2008. Sanjay got married the third time to his current wife Maanayata Dutt in the same year and their twin children named Iqra and Shahraan were born on 21st October 2010.








Trishala's late Mom Richa was born in the same week on August 6 and the daughter wished her with a pretty picture of her Richa's and a touching message which read - "happy birthday mama 🌸 #RIP"






Here's one in which Trishala poses with Dad and her cute step sister Iqra Dutt.






Although Trishala stays away from her Dad but the two stay connected resorting to video chats through skype and meet at times too. Despite staying away from her star father, Trishala is still very popular on social media platform and she keeps her followers updated with her day-to-day life, sharing her hot and pretty pictures regularly on Instagram.

We too wish Trishala a Happy 30th Birthday today.