Shah Rukh Khan surpasses Amitabh Bachchan on Twitter
The coming up of Twitter has made celebrities social than ever. It however has also triggered an unsaid competition of having maximum followers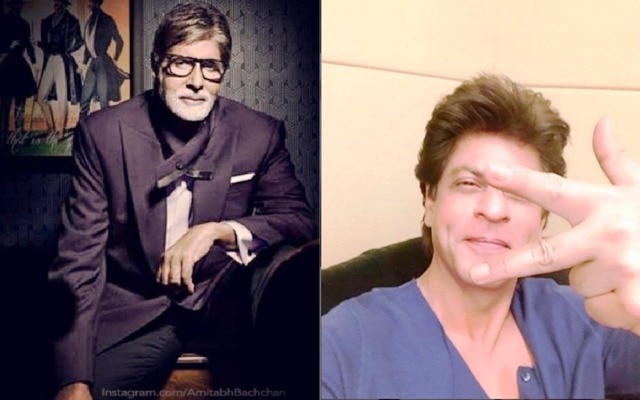 New Delhi:
Bollywood actor Shah Rukh Khan who was just behind Big B Amitabh Bachchan in terms of followers on Twitter, has now surpassed the megastar and has become the most followed actor on Twitter.
The coming up of Twitter, the micro blogging social site has made celebrities social than ever. It however also triggered an unsaid competition of having maximum followers.
So far Amitabh Bachchan was the undisputed king of Twitter with maximum followers. Shah Rukh Khan too was one of the most followed actors on Twitter but was behind senior Bachchan in the race. However now with so much going on with his new films and his felicitation in Davos, Shah Rukh has earned more followers and has surpassed those of Amitabh Bachchan.
At present Shah Rukh Khan has 32,939, 148 followers as against 32, 900, 827  followers of Amitabh Bachchan.
However this difference is not big and senior Bachchan can soon reclaim the throne. He is highly active on Twitter and shares  the details of his life with his fans on a daily basis. It will not be an uphill task for him to take the lead again.



T 2598 - महात्मा गांधी जी की पुण्य तिथि पर पूज्य बाबूजी , डॉक्टर हरिवंश राई बच्चन जी के कुछ क्षण :

"था उचित कि गाँधी जी की निर्मम हत्या पर
तारे छिप जाते, काला हो जाता अंबर,
केवल कलंक अवशिष्ट चन्द्रमा रह जाता,
कुछ और नज़ारा
था जब ऊपर
गई नज़र।"

-हरिवंशराय बच्चन pic.twitter.com/s223aUfSlz


— Amitabh Bachchan (@SrBachchan) January 30, 2018
SRK may not be as active as Amitabh Bachchan but he too is regular visitor of the micro blogging site and makes it a point to tweet on all the major issues. Also Shah Rukh's following is increasing expeditiously. Few hours ago he had 32, 938,260 followers and now he has 32,939, 148 followers.

Last episode Ted Talks india. Hope the ideas discussed give u all some ideas. Thanx Star Plus Team @julietrblake & all who put it together

— Shah Rukh Khan (@iamsrk) January 28, 2018

Shah Rukh was recently awarded with the 24th Crystal Award at the World Economic Forum. He will be seen in Anand L. Rai's Zero, while Amitabh Bachchan will be seen in Thugs of Hindostan.