"Literally Young Srk" -Fans comment on Aryan Khan's Latest Instagram Pic He Posted After 6 Months of Inactivity!
Shah Rukh Khan's son Aryan Khan returns on Instagram after 6 months, posts a latest pic & fans call him "literally young Srk"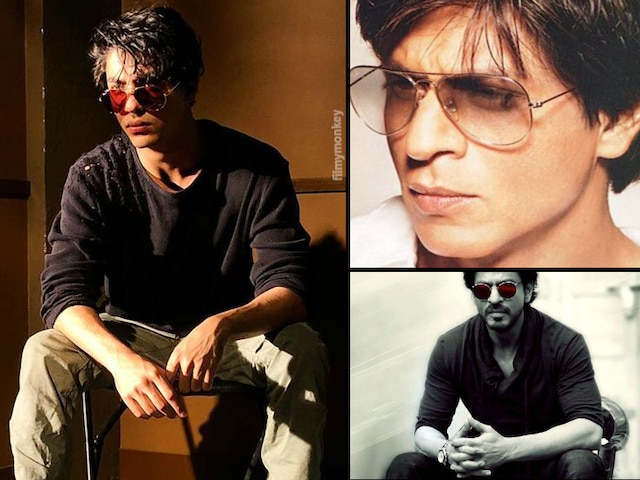 Mumbai:
SRK's 21yr old son, one of the most popular Bollywood star kids, Aryan Khan, just made a comeback on Intagram after remaining inactive for past 6 months and his new photograph he uploaded, has fans swooning over his looks. Aryan, who last made his appearance during Rakshabandhan 2019 celebrations in August with cousin sister-brother duo Alia-Arjun Chhiba and little brother Abram, uploaded his picture with no caption and he looks super hot in it sitting on a chair in the dark donning black sweatshirt and khaki lowers with round-shaped red sun glasses on and hair gelled.
PICS: Aryan & Abram Khan Celebrated Raksha Bandhan 2019 With Cousin Sister Alia Chhiba While Suhana Is In France!
The girls are drooling over Aryan's hot looks and most have marriage proposals to make and most of his followers/fans find him the younger version of his superstar dad SRK. Wearing his classic serious expression on his face, Aryan looks through the glasses gazing at a distance, making girls go weak in knees.


Check out the picture below which has been liked 1.85 lakh times since it's upload 10 hours ago. The picture has over 2000 comments too.




View this post on Instagram



One fan commented: Legit thought it was Shahrukh. Ugh why is he so hot.

A user asked, why is he always serious.

While another said: Like father like son.

A user said: "Mere naal viyah karlo (marry me)".

Another wrote: I love you.


Fans react on Aryan Khan's latest Instagram Post
Fans react on Aryan Khan's latest Instagram Post
Fans react on Aryan Khan's latest Instagram Post

Apart from his good looks, SRK's eldest son Aryan Khan, also keeps coming back to headlines over his love life. Recently in July end, his picture with a girl dressed in red re-surfaced from his 2016 Graduation Party, with everyone speculating that's that is his London blogger girlfriend from the reports filed few days before this. Mumbai Mirror reported in July that even his mother Gauri has also met the lucky lady and the verdict all around is that she is a very sweet girl. 

It is not confirmed yet though if these are the pictures of the same London blogger girlfriend Aryan is supposedly dating currently.

ALSO - Here's how Shah Rukh Khan REACTED when asked about his son Aryan's 'many girlfriends' !

Aryan has also rumored to have dated Amitabh Bachchan's grand daughter and Shweta Nanda-Nikhil Nanda's daughter Navya Naveli Nanda who was his school mate at London's Sevenoaks school and the two graduated together. She was however spotted later with the British guy named Harry Gillis and the two made headlines over their dating rumors too.

Pic Alert! Navya Nanda SPOTTED with Harry Gillis in Thailand, Holidaying with her rumored BOYFRIEND!

(With inputs from IANS)