The mystery girl clicked with Priyanka Chopra's brother Siddharth at Ambanis is Telugu actress Neelam Updahdyaya
Siddharth Chopra whose wedding was called off early this year with Ishita Kumar made heads turn by entering Amabanis Ganesh Chaturthi 2019 celebrations with a beautiful "mystery girl" whose identiy has been finally revealed and she is the actress from Tollywood named Neelam Upadhyaya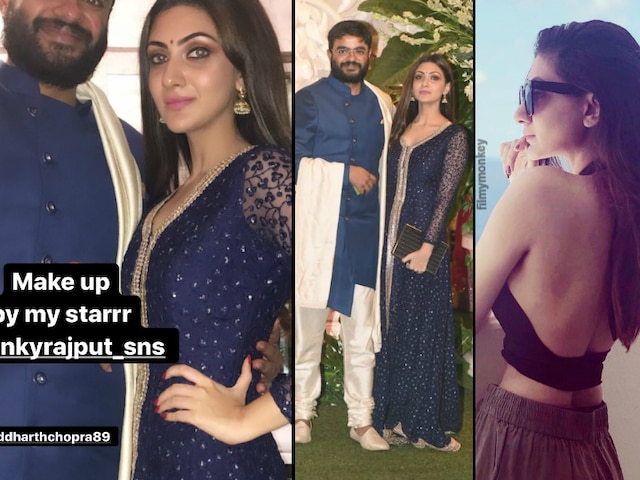 The who's who of Bollywood turned up at Ambanis Antilia for Ganesh Chaturthi celebrations in Mumbai on Monday night and while the celebrities arrived with families, spouses and partners, Priyanka Chopra's brother left everyone surprised by attending the function with a "mystery girl". That's what the gorgeous lady in the pictures posing with him was addressed as in the reports. And while speculations were rife that Siddhart has found new love after his wedding was called off with
Ishita Kumar,
the man himself reveals the identity of the person present with him in the pictures clicked last night. Siddharth took to Instagram and posted the same picture with the lady and tagged her on Instagram and Filmymonkey spots this first. To everyone's surprise, she indeed is an actress from Tollywood named Neelam Upadhyaya. Reportedly 25 yrs old, Telugu actress Neelam has appeared in various films like 'Mr. 7', 'Action 3D', 'Unnodu Oru Naal', 'Om Shanthi Om', 'Pandagala Vachada' with 'Tamasha' being her next.
Siddharth Chopra's Insta-story he updated an hour ago revealing identity of the myster woman with him in the pictures from Amabanis Ganesh Chaturthi 2019 celebrations
Siddharth recently started following Neelam on Instagram and it is yet to be revealed why the two made a 'couple entry' at Ambanis residence which was packed with celebrtieis as well as paparazzis. Neelam is very active on social media and the beautiful actress shares her stunning and hot pictures regularly.





View this post on Instagram
The pictures of Siddharth and Neelam made headlines because the younger brother of Peecee was supposed to get married to his fiance Ishita Kumar just a few months ago in April and spotting him now with another woman was sure to leave tongues wagging.
Siddharth Chopra was all set to get married to Ishita Kumar in the last week of April. However, their wedding got cancelled few days before the scheduled date. Priyanka & Siddharth's mother Madhu Chopra had said that the
 marriage was mutually called off.
 They had their traditional roka ceremony on February 27 in Delhi and Priyanka had also shared the pictures from the function welcoming Ishita into the family. And later while talking to Spotboye, mom Madhu Chopra had revealed the real reason for calling off the marriage. She said- "My son Siddharth said he was not ready for marriage yet. He explained he needed more time."
PICS: Priyanka Chopra twins with hubby Nick Jonas at brother Siddharth Chopra's roka ceremony!
"This arranged marriage was being pushed a bit in haste," a source told the portal.
Priyanka Chopra's old post welcoming Ishita to the family after younger brother Siddharth Chopra's Roka Ceremony
So, has Siddharth found a new girlfriend in Neelam or they are just friends.. by making the revelation about the lady in the picture with him, Siddharth has left us with another mystery indeed.
Siddharth Chopra and Neelam Upadhyaya make entry together at Ambanis Ganesh Chaturthi 2019 celebrations (Pic: Manav Manglani)