Sonam Kapoor, Jwala Gutta & fans lash out at Vivek Oberoi for Exit Poll meme on Aishwarya Rai Bachchan-Salman Khan
Vivek Oberoi bashed for sharing an election meme that uses Aishwarya Rai Bachchan's relationships with Salman Khan, Vivek and Abhishek Bachchan to explain 'Opinion Poll, 'Exit Poll' and 'Resul'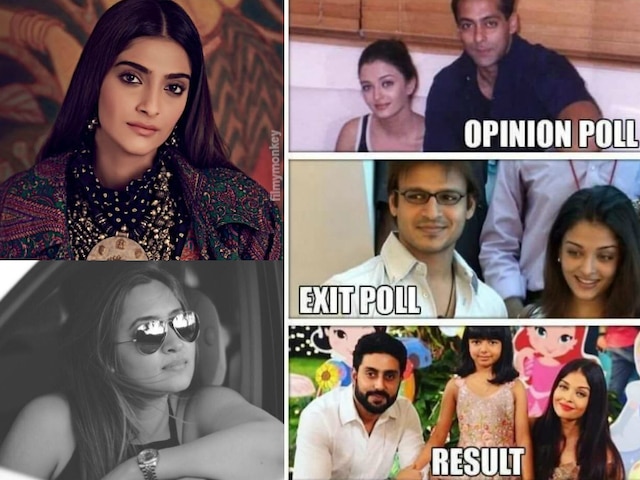 The new posted of upcoming Modi biopic 'PM Narendra Modi' was launched by actor Vivek Oberoi just a while ago and while he should be trending for the movie that finally gets to release post Lok Sabha Elections 2019 results, he is being bashed for his latest social media activity. Two hours after Vivek shared the new poster of his film on social media, he uploaded a meme on Elections that uses his ex girlfriend Aishwarya Rai Bachchan's love life to explain the Exit Poll scenario. We showed you Vivek's tweet just a while ago and while he was aiming to trend for his upcoming film on PM Modi through this meme-post, it backfired and the actor is being severely bashed, right so we believe.
SHOCKING! Vivek Oberoi shares a meme on Elections that mentions Aishwarya Rai Bachchan & her ex flames!
Vivek had captioned the meme- 
"Haha! [thumbs up emoji] creative! No politics here....just life [folded hands emoji][laughing face emoji] Credits : @pavansingh1985"


Shamelessly laughing at the meme, actor's move is termed "Disgusting and classless" by 'Veer Di Wedding' actress Sonam Kapoor. From the common people to celebrities like Sonam and Jwala Gutta, none of them are finding it funny or put to right use.

Sonam reacted to the meme that was shared by a journalist who had reacted to it telling Vivek, "Distasteful. Move on Mr. Oberoi". Sonam re-shared the post writing along with it - "Disgusting and classless."




Disgusting and classless. https://t.co/GUB7K6dAY8


— Sonam K Ahuja (@sonamakapoor) May 20, 2019



Ace badminton player Jwala Gutta also reacted to Vivek's tweet and replied back to him with - "Extremely absurd of you to tweet this!! Disappointing!".




Extremely absurd of you to tweet this!! Disappointing!


— Gutta Jwala (@Guttajwala) May 20, 2019



And Vivek Oberoi's fans are showing no mercy to him either.


Fans bash Vivek Oberoi over his Exit Poll Meme surrounding Aishwarya Rai Bahchchan's life

While many are digging out more memes to answer Vivek's, others are bashing him brutally and there are some who are finding little Aaradhya's presence in the meme totally disgusting.

A journalist wrote- "At least this man should have thought 10,000 times before dragging a minor into it.. Shame on you Mr @vivekoberoi #VivekOberoi".

UPDATE - NCW (National Commission for Women)issues notice to Vivek Oberoi over using Aishwarya Rai Bachchan meme on Exit Poll!