'Spider-Man: Homecoming' actor rips his superhero suit on the sets; Find out Why?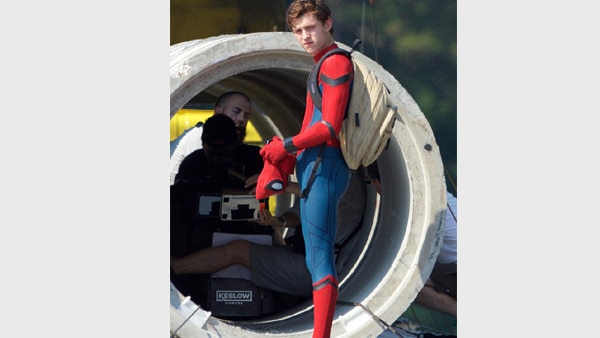 Los Angeles:
Actor Tom Holland, who will be seen playing the title role in upcoming highly-anticipated film "Spider-Man: Homecoming", says he has around 20 costumes of Spider-Man because he keeps ripping them off on the film set.
Holland shared insights about his costume during an interview with radio channel Seacrest Studio Atlanta in Egleston Children's Hospital, reports aceshowbiz.com.
Tom Holland on the sets of 'Spider-Man: Homecoming'
SHOCKING! A Hollywood actor has been CONVICTED of sexually assaulting a girl! READ MORE…
"I break them quite a lot because I have to do a lot of stunts and flips and stuff, so they rip," Holland said.
"So, I think, we have 20 suits, I think, that we alternate. This is, actually, what we would call a beauty suit, which means it's 'picture ready'. And then we have a stunt suit, which isn't as nice as this one," added the actor, who dressed as Spider-Man upon his visit to the hospital.
10 times Kim Kardashian nearly broke the internet with her bold pictures!
Talking about his role, Holland said: "Spider-Man has always been a huge part of my life. I loved the movies, I loved the comics, and I always just wanted to be Spider-Man. I could never have imagined that this would become a reality, and then to be here today and meet all you guys is such a privilege."
Directed by Jon Watts, "Spider-Man: Homecoming" will release on July 7, next year.
IANS