Sridevi Death UPDATE! Report says Sridevi died of accidental drowning in bathtub in a drunk state!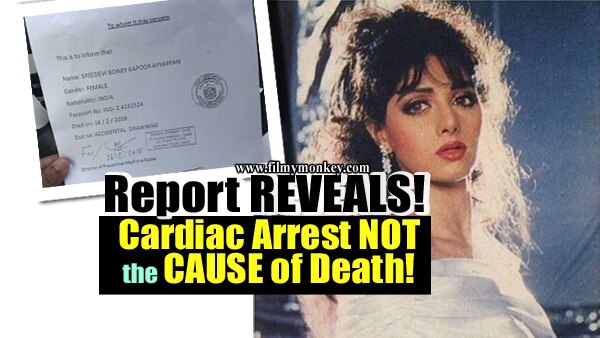 The reports is finally out after the autopsy on the body late Sridevi is completed and the death certificate is given. The report revealed that Sridevi died not of a cardiac arrest but f accidental drowning in the bathtub in her hotel room in the Jumeirah Emirates Towers after she lost balance in an inebriated state. There was traces of alcohol found in her  blood.
The cause of the death is mentioned on the death certificate,  reveals Khaleej Times.
It was being reported earlier that the legendary Bollywood actress had died succumbing to a massive cardiac arrest on Saturday night in Dubai where she was attending a family wedding. She reportedly had a fainting spell in her bathroom and was immediately rushed to Rashid Hospital in Dubai. She was declared brought dead.



#FLASH Forensic report says, #Sridevi died from accidental drowning (Source: UAE's Gulf News) pic.twitter.com/eWXdw1p1ZL


— ANI (@ANI) February 26, 2018
In addition to this, there have been many versions to the story what happened in the last moments before her death.
One version says that it was her husband Boney Kapoor who found her in the unconscious state inside the bathtub while the other one says that she was alone and was found in the bathtub by hotel staff and they are the one who took her to the hospital.
The forensics report is out now and more details are awaited while Khaleej Times reports that in an hour her body will be moved to the embalming unit.
While here in India the pained relatives and friends of Sridevi's have been visiting at Anil Kapoor's house in Mumbai to pay last respect to her
[PICS: Madhuri Dixit & hubby offer condolences to Sridevi's family at Anil Kapoor's house!].
UPDATE -
Sridevi's case transferred to Dubai police prosecution!