SRK, Priyanka Chorpa and Anushka Sharma grace the 10th anniversary of Vogue India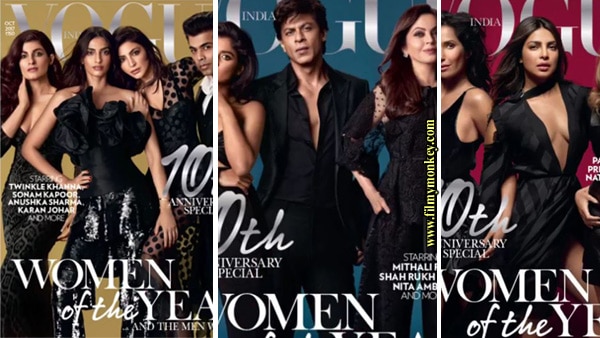 By:

ANI
Updated:
25 Sep 2017 08:48 PM
New Delhi: Vogue India marked its 10th anniversary, so the celebrations had to be grand.
To celebrate the 10th anniversary, Vogue released three covers for their October 2017 issue.
The covers feature celebrities like Shah Rukh Khan, Priyanka Chopra, Anushka Sharma, Sonam Kapoor, Twinkle Khanna, Karan Johar, Padma Lakshmi, Natalia Vodianova, Mithali Raj and Nita Ambani.


All the three covers talk about women of the year and the men we all love.
The first Vogue cover which features Twinkle Khanna, Sonam Kapoor, Anushka Sharma and Karan Johar.
Twinkle Khanna looks sultry in her animal print Roberto Cavalli dress, while Sonam Kapoor puts a fashionable foot forward in her Crepe blouse with ruffles around the neckline and pairing it with sequinned trousers.
Anushka Sharma wore a sheer polka dot lace dress by Francesco Scognamiglio.
Meanwhile, the only man on the cover, Karan Johar was seen wearing a Gucci shirt, pairing it with jacket and trousers.
The next Vogue October cover is a rather international cover with hotties Padma Lakshmi, Priyanka Chopra and Natalia Vodianova striking a pose.
Padma Lakshmi looks sexy in a velvet blouse and matching skirt both from Altuzarra, while Priyanka Chopra looks alluring in a silk dress by Off-White.
Also seen posing next to PeeCee is Russian supermodel Natalia Mikhailovna Vodianova aka Supernova.
The next cover features sportswoman Mithali Dorai Raj, who can be seen wearing a Johanna Ortiz jumpsuit.
Nita Ambani, on the other hand, is seen in a pretty lace blouse by Elie Saab that she pairs with harmonizing Valentino lace trousers.
In between the two ladies is Shah Rukh Khan, looking handsome as always in an all-black tux by Raisson D'Etre.