Kareena Kapoor Khan warns Sara Ali Khan against dating her first hero! Also reveals Saif Ali Khan's annoying habit!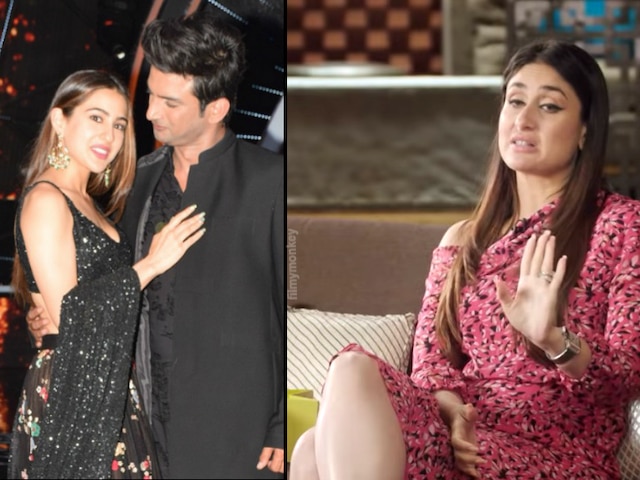 Kareena Kapoor Khan who's the step mother of 'Simmba' and 'Kedarnath' actress Sara Ali Khan was on Komal Nahta's celebrity chat show 'Starry Nights 2.OH!' along with her bestie Amrita Arora and during the 'Double Trouble' round they fired questions at each other which were handed over to them. In the list of questions Amrita had for Kareena, there was one
"Dating advice for Sara?"
. Kareena promptly responds with -
"Don't date your first hero!"
. Komal and Amrita laughed and Kareena says
"I have said".
What's interesting is that Sara is indeed rumored to be currently dating her first film 'Kedarnath' co-star(hero) Sushant Singh Rajput and the two are often spotted outside each other's house. The rumor mills started buzzing about their affair when the daughter of Saif Ali Khan had reportedlyl cut short her trip to be with Sushant on his birthday a while ago.
Sara even shifted to her own house recently and after her picture while moving out of her mom Amrita Singh's house shifting the packed boxes went viral, she took to Instagram to announce "new beginnings" posing with the unpacked boxes sitting on the living room floor.


So, did step mom Kareena just confirm that the two are dating?

Sara Ali Khan posts a pic from her new home !

The other questions Amrita asked bestie Bebo on 'Starry Nights 2.OH!' were: 

Amrita: A movie you shouldn't have done?

Bebo: I am proud of all my filmography!

Amrita: One actor you think should retire?

Bebo: What rubbish! Nobody i think... who is there to retire!!

Amrita helps her: But no one should retire! They should keep working!

Amrita: One annoying habit of Saif?

Bebo: That he needs to have a foot massage anywhere in the world! Be it an aircraft, be it an airport lounge.. he's the first one to lie down and say "arre yaar paer dabaa do!".. [leaves the other two in splits!]

Watch 'Starry Nights' glimpse of Kareena with Amrita, below: 



Amrita and Kareena are the BFFs for many years and the two are often seen partying away with their girl gang which includes Kareena's sister Karisma Kapoor & Amrita's sister Malaika Arora Khan.

Amrita Arora bash PICS: Taimur with Kareena, Arjun Kapoor in 'Panipat' look, Malaika Arora have a get-together!

Kareena's own Ishq FM radio show 'What Women Want' also holds a segment where she chats up with a celebrity guest and we have seen her sister Karisma, actress Sunny Leone, sister-in-law Soha Ali Khan along with many others appearing and making some huge revelations.

Check them out below: 

-Taimur Ali Khan's mom Kareena Kapoor  shows finger to trolls who criticize her for hiring nanny for son! Soha Ali Khan was guest on Bebo's radio show 'What Women Want'

-You're my role model, Karisma Kapoor tells sister Kareena Kapoor Khan