H'wood star Will Smith grooves to 'Radha teri chunri' on 'SOTY2' sets with Tiger, Ananya & Tara..Watch VIDEO!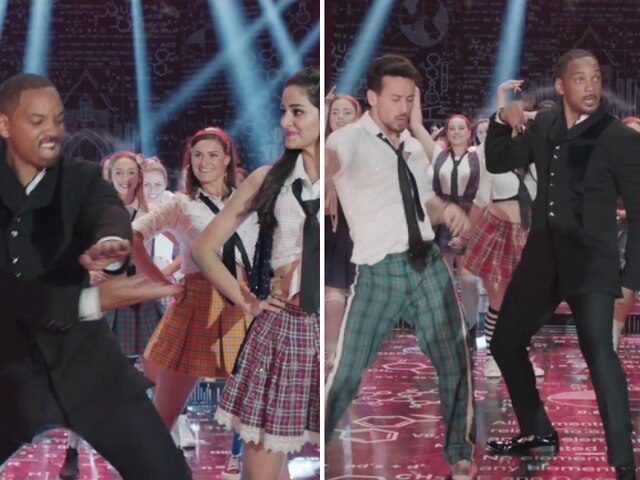 Mumbai:
Will Smith has ticked off Bollywood from his bucket list. In a clip of his Facebook show "Bucket List", the 50-year-old star met with several famous Bollywood actors like Tiger Shroff, Ananya Pandey and Tara Sutaria as he prepared to film one of the industry's famous dance sequences for a film here. He danced to "Radha teri chunari" with 'SOTY 2' stars Tiger, Ananya and Tara.
"In my spiritual practice I'm trying to be comfortable being embarrassed, but I do not like being embarrassed," Smith said in the video.
As he greeted the actors on the set of the Karan Johar production "Student Of The Year 2", Smith said that while he felt nervous he managed to get "a really good sense of what makes Bollywood tick because it's what makes me tick".


"People go to the movies because they want to have fun, they want to feel good. But then by opening themselves to this collective emotional experience, an opportunity is presented where we can actually learn something about life," said the "Independence Day" star.

Watch Will Smith shake a leg 'Student of The Year 2' stars Tiger Shroff, Tara Sutaria & Ananya Pandey on 'Radha Teri Chunri', below!

[you may skip to 18:00 for the dancing bit]



The actor is following in the footsteps of his wife, actress Jada Pinkett Smith, who launched her show "Red Table Talk" last year.

Another actor who featured on Smith's video was Bollywood actor Ranveer Singh.

Ranveer on Thursday shared a clip of himself on the theme song of "Men In Black" titled "big Willy style". The video, which features Ranveer in a black suit, is a tribute to Smith.