Sunny Leone REACTS To Her Son Noah Singh Weber Being Compared To Taimur Ali Khan
Fans pointed at the uncanny resemblance Sunny Leone's son Asher bears with Saifeena's kiddo Taimur Ali Khan with some even calling him the doppelganger of the 'chhote nawab'.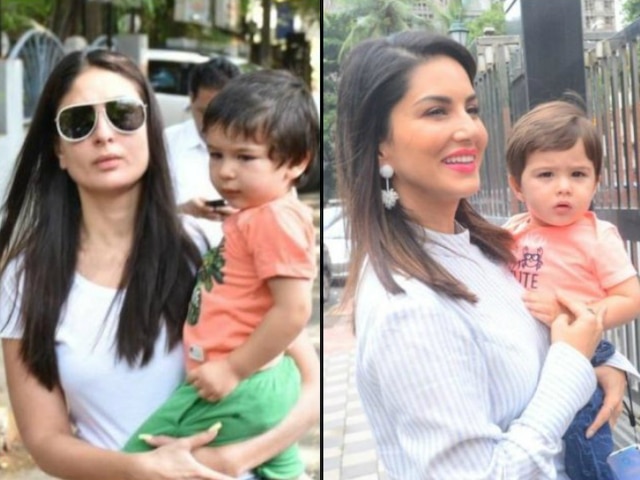 Last week some pictures of Sunny Leone's son Asher Singh Weber went viral with everyone calling him the doppelganger of Saif Ali Khan and Kareena Kapoor's son Taimur ali Khan. The comparisons were made between the two over how they looked and the fans noticed the uncanny resemblance Asher bears with one of Sunny's twin son Asher. Sunny stepped out number of times recently with her husband Daniel Weber and three children , twin sons Asher-Noah and daughter Nisha Kaur Weber. Soon after the pictures flooded social media pages with collages of Taimur and Asher's pictures put side by side which even made headlines on
portals.



View this post on Instagram



Is that taimur khan??


— Sumeet V Jadhav (@SVJsumeet) July 14, 2019
And now the 'Jism 2' actress reveals she is aware of the comparison being made between her son Asher and Bebo's li'l nawab Taimur. Reacting to it, Sunny told DNA -
"Yes, there were comparisons. Asher has a golu little face and so does Taimur. Social media will do what they want to. Taimur is a very, very cute child and Asher is adorable, too."
Both Sunny and Kareena are praised for managing their house and kids well along with work. Asked how she juggles acting, business and motherhood, Sunny further adds,
"There is no choice. If all the moms out there are reading this, they will know exactly what I am talking about. Kids have to be fed, they have to have their baths, they have to go to school. You (parents) need to give them proper attention and be there and watch them grow. You have to take care of the household, go to work and one million things have to get done every day. But, I am not complaining and I love my life. Yes, I don't sleep much, but this is the best part of my life ever. I am good at time management and so is my husband (Daniel Weber). So, there is always someone or the other taking care of the kids. And we both are hands-on parents."
Sunny and Daniel look after their kids in each other's absence and while the mommy is often spotted picking or dropping the munchkins at their play school,
daddy dear takes them out strolling
on streets.


ALSO -
Sunny Leone & Daniel Weber celebrate eighth wedding anniversary daughter Nisha Kaur Weber bakes cake for them! SEE PICS
Taimur is currently vacationing with dad-mom in London where the parents are also shooting their respective films 'Jawaani Jaaneman' and 'Angrezi Medium'. The family is recently joined by Taimur's Bua Soha Ali Khan, her actor-husband Kunal Kemmu and daughter Inaaya Naumi Kemmu. Their pictures have been ruling the internet since this weekend and they continue to pour in.
Kareena Kapoor's Son Taimur Ali Khan Hanging At Farm With Cousin Inaaya Naumi Kemmu In London Is Too Cute For Words!
Sunny-Daniel's children may not be as popular as Internet's favorite child Taimur Ali Khan but the latest outing of the kids did draw a lot of attention, all thanks to
chhote nawab
. But yeah! we agree with Sunny here, that "
Taimur is a very, very cute child and Asher is adorable, too."