Kareena Kapoor Khan-Soha Ali Khan talk about celeb moms' trolling & why they hired nanny for Taimur-Inaaya! Bebo 'shows' finger to trolls!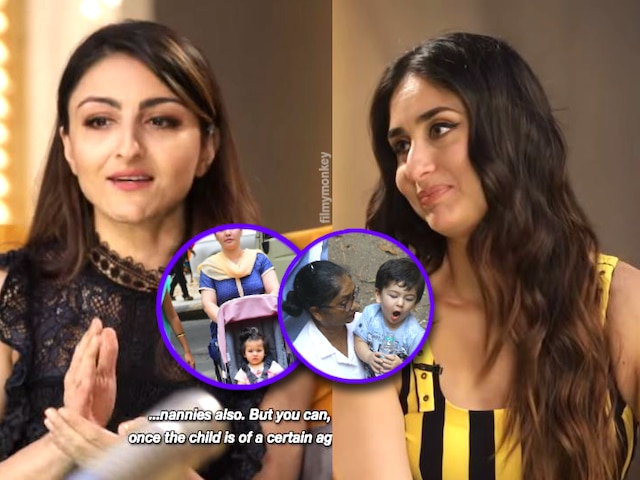 Kareena Kapoor Khan recently turned RJ and host for Ishq 104.8 FM radio show titled 'What Women Want' and the latest celebrity guest on the show was her sister-in-law Soha Ali Khan. The two Pataudi ladies both Kareena and Soha are now mothers to a son and a daughter respectively and their babies Taimur Ali Khan(2 yr 2months old) and Inaaya Naumi Kemmu(1 yr 4 months old) are two of the most popular star-kids on the block.
The gorgeous wife of Saif Ali Khan and his very articulate sister Soha spoke on various topics like motherhood, parenting, relationships, paparazzi and the social media trolls. One hot topic that was discussed was about their nannies and we all know why! Taimur's nanny who is reportedly named Savitri, has become a popular face now and her salary made headlines a while ago too which is believed to be around 1.5 lakh a month. Also, Kareena(along with other celebrity moms) has been trolled several times in the past for hiring a nanny to look after her kid.
The video of Taimur falling at playschool in presence of mom Kareena, becomes fodder for trolls! Goes VIRAL!


Soha spoke at length about how Inaaya's arrival brought changes in her life and how husband Kunal Kemmu doesn't like to pamper daughter too much so as to give her a normal child's upbringing. During the conversation, when Kareena asked Soha what does she need the nanny for, saying- "What is the role of your nanny in helping you?", Soha replied - "So we need good staff! [Kareena: absolutely!] I know that everyone cannot afford nurses, you know not everyone can afford nannies also. But you can once the child is of a certain age, just somebody who's nurturing. Somebody who perhaps has had children of their own. [Bebo: yes!] Or strikes a good bond with the child."

In Pics: Inaaya looks cute as a button as she steps out for a stroll in her pram with her nanny & you can't miss her expressions

Further talking, Soha quotes her father's instance who was a professional athlete but stopped working when Soha and Saif were born. She says her mother[Sharmila Tagore] would be away shooting when they would return home and father[Mansoor Ali Khan Pataudi]would be home.

And in a while during the conversation, Kareena brings up the trolling of the celebrity moms, for hiring nannies. Kareena opens up about people who shame and troll celeb-moms, speaking of which, she reportedly said, "I have to address one thing… recently I got trolled on a photo where I was getting into a private jet… and the trolling was about how apparently, I'm a careless mother who's letting my kid be brought up by nannies. To you judgmental folks who know nothing about my life, please note that there's a finger I'm showing you in my mind right now."

Soha on the other hand had this to say-

"People do feel a certain way and you can't block that out. I'm not saying that you have to engage with it, but you have to be aware that things exist. In terms of shaming and trolling sometimes it's just people looking for attention[Bebo sternly: yeah!] And some things need to be ignored, somethings need to be engaged with. Often, i  have seen people being converted. Sometimes you can actually have a rational discussion with someone, if they are open to changing their point of views. And you cannot please everyone. So just please yourself!".

Watch the video glimpse from Kareena-Soha radio show chat below: