Does Nick Jonas Touch Mother-In-Law's Feet When He Greets Her, Aks Kapil Sharma; Here's What Priyanka Chopra Said!
Married in the same month of December last year, both Kapil Sharma and Priyanka Chopra discussed their marriages, spouses, life post wedding and more as Peecee promotes 'The Sky Is Pink' on the show this weekend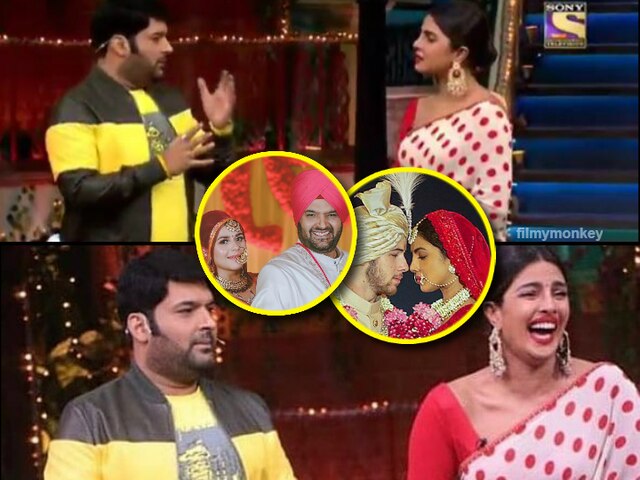 Priyanka Chopra will be promoting 'The Sky Is Pink' on Kapil Sharma's show 'The Kapil Sharma Show' in the coming weekend and when these two meet the obvious topic of discussion that came up was their marriages which took place around the same time.
Priyanka tied the knot with Nick Jonas on December 1st
last year while
Kapil Sharma and Ginni Chatrath got married
the same month on 12th. Ginni is
currently pregnant
with their first child too. Kapil posted the promo video with Priyanka who's his next guest on the show and once the both of them came face to face, everyone was left in splits.
They both discuss how they meet each other first time post both their marriages. They congratulate each other.
Then
Kapil says-
"Priyanka aur meri shaadi ka yog saath saath nikla tha, wo alag baat hai ki alag alag jagahh ho gayi!".


Kapil next says to Priyanka- "aapko pataa hai mai bhi pehle ek Hollywood ki ladki se shaadi karne wala tha!?".

Priyanka says- "Oh?"

Kapil- "par idea drop kar diya kyonki mummy ko english nahi aati na!"

Kapil's mother Janak Rani was also sitting in the audience and she laughed hearing this.

Priyanka quips with- "Ek second! mummy ko english nahi aati ya tumko english nahi aati?". Kapil was at loss of words while everyone clapped.

Kapil next wanted to find out certain things about Nick and turns to Priyanka saying...

Kapil- "Achha.. Nick jo hain wo aapki mummy ko aise milte hain jaise India mei milte hain damaad aise paer chhookar ya hawa mei air-kiss karte hain waise wala?"

Priyanka- "dono ke beech mei! Bechara hug karta hai mummy ko!"

Peecee's mom Madhu Malati sitting in audience nods in yes.

Kapil- "Maine apni saas ke sath try kiya tha air kiss wala, uska jhumka mere muh mei aa gaya". Leaving Priyanka in splits.



ALSO |

Priyanka Chopra's father-in-law Paul Kevin Jonas fought cancer, Reveals it on World Cancer Day!

Priyanka next complained about Kapil's absence from her marriage saying whenever she comes she gets all her  "khandaan" with her but he did not make it to her wedding which she feels bad about.

Kapil teases her saying- "mai to ghodi pe aana chahta tha!".

The audience applaud hugely with Archana Puran Singh going "aaaaaah! hahaha!".

Kapil also reveals that Parineeti Chopra(Priyanka's cousin sister-actress) shared that Nick had gifted diamonds to all the sister-in-laws(saali) and Priyanka corrects those were diamond rings.

Kapil- "hamein bataa deti Priyanka, hum tumhari behen bann ke hi aa jaate!"

Peecee- "ye ghalat hua.. maine toh isko kab se behen banaya hi hua tha. Sorry.. Bhai!!"

ALSO | WATCH VIDEO! Here's how Parineeti Chopra reacted on sister Priyanka Chopra's viral smoking controversy and pics on a yacht at Miami! "shut up!"

And then Priyanka had a tricky question she asked Kapil. She asked him he had his wife Ginni calling him from one end of the house and mom from another, where would he go first?

Kapil replies with- "ye alag alag hoti nahi, dono sath mei rehti hain, inhone giroh banaya hua hai.."

Kapil's mom intervenes from the audience- "pehle wife ke paas jayega baad mei mere paas aayega!"

Priyanka boos for Kapil and everyone laughed hard.

Priyanka next asks Kapil's mom- "aunty, phir ek aur sawaal.. agar aap mei aur Ginni mei thodi si nok-jhok ho jaye.. toh kisko manaoge pehle tum?[looking at Kapil]"

Kapil's mom- "pehle wife ko hi manayega na!"

ALSO 

|

 Kapil's PREGNANT Wife Ginni Chatrath Attends 'Angry Birds 2' screening With 'The Kapil Sharma Show' Team Members!

Kapil- "Log bolte hain shaadi ke baad ladka badal gaya ladki.. meri maa hi badal gayi hai!"

Check out the hilarious promo below: 




View this post on Instagram