Twinkle's cousin Karan Kapadia pokes fun at nephew Aarav Kumar with pool throwback pics!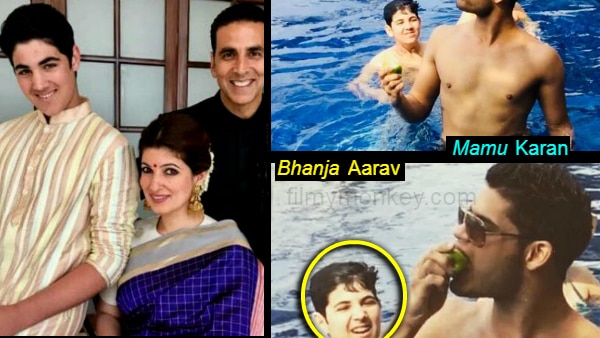 Karan Kapadia, the son of Dimple Kapadia's late actress-sister Simple Kapadia is soon to make Bollywood debut with Tony D'Souza and Vishal Rana's upcoming yet-untitled film which is directed by Behzad Khambata. Karan has been staying with Twinkle Khanna and family since his mother's demise 9 years ago and he bonds very well with his nephew Aarav Kumar, these new pictures are proof!
Karan took to his Instagram page on Thursday and shared a throwback moment with his nephew and Akshay-Twinkle's son Aarav Kumar while chilling inside pool a few years ago. The caption Karan chose, however, was to tease his Bhaanja.

In the picture Aarav is seen looking at Karan and Mamu jaan adorably interprets it with - "When your nephew realises that you're his role model ." 

While Aarav looks at Karan, the latter has something in his mouth and a half-eaten fruit in his hand.

A few hours later, Karan returned on Instagram and posted another picture from the same moment in which he's seen digging his teeth into the apple he was holding in the earlier picture and he writes with this one - "Nephew watching me keep the doctor away."








Seen here clean-shaven, Karan otherwise sports a beard currently and has a far better body now too..thanks to his prep for the debut film.

Karan has been training hard on his body as well as learning martial arts for his debut movie and he was quoted saying by IANS in December 2017 -"I've learnt to ride a horse and the bike. I've been swimming and I trained in martial arts for six months in Bangkok."

Family PICS: Twinkle's cousin Karan who lives with them, all set for Bollywood debut!

Karan Kapadia is part of Akshay-Twinkle's family and all of them are often spotted going out together on lunches and movies too. Karan also refers to his Mausi (maternal aunt)Dimple Kapadia as his "second mother" and their bond is beyond perfect as we see in pictures shared by Karan often.










Coming back to the adorable pics of Aarav with his Mamu...

Aarav does not show up much like other Bollywood star kids and he also goes incognito on social media platforms, keeping his profiles completely on private mode. He only makes appearances on family outings, although his leaked pictures/videos often go viral on social media[Pics-Video! Akshay Kumar's son Aarav hides his face as he goes out on dinner with two female friends!].

Karan's fun-poking posts with nephew Aarav were sure a treat for Akshay Kumar fans.

Stay tuned at FilmyMonkey for all updates!