WATCH: Sunny Deol & Dimple Kapadia CAUGHT HOLDING hands & SMOKING on a busy street in London!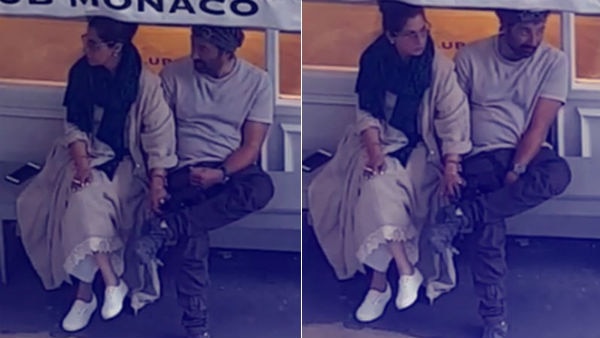 Days after Ranbir Kapoor and Mahira Khan's pictures from New York where the duo was puffing cigarettes went viral, another Bollywood's rumoured couple's video has set the internet on fire! Well we are talking about Dimple Kapadia & Sunny Deol who's love affair has been an open secret for a long time. The two were spotted at a bus stop in London holding each other's hands looking every bit of a couple in the video that is now viral on internet.
A still from you tube video
IN PICS: Ranbir Kapoor and Mahira Khan CAUGHT smoking & chilling together in New York and the PICTURES are BREAKING THE INTERNET!
However this recent video on You Tube proves that the two are still very much together! Well, Bollywood lovers know that Dimple Kapadia and Sunny Deol's love affair was a steamy one in the late 80s.
Sunny Deol & Dimple Kapadia in a still from Manzil Manzil movie
And this latest video once again spills the bean on Dimple and Sunny's affair!
video interview: "When will you grow old?" Anil Kapoor replies to Dimple's question
According to Mumbai Mirror, Sunny Deol took off for a week to London last month to be with Dimple Kapadia. The duo was filmed by a fan, Nisha Pal, on August 9, who uploaded their video on You Tube which went viral in no time!
WATCH BELOW:
Looks like Sunny and Dimple are in no mood to hide their alleged relationship! So is it like 'Khullam Khulla Pyar Karenge Humdono' for the two lovers!
Last week it was Ranbir & Mahira who's viral pics were splashed all over the Internet
.
 The Bollywood star and Pak actress were seen smoking outside a hotel in New York.
The actress faced a lot of backlash for smoking and wearing revealing backless clothes.