WATCH VIDEO: Pak singer Atif Aslam stops his concert MIDWAY to rescue a girl from EVE-TEASING!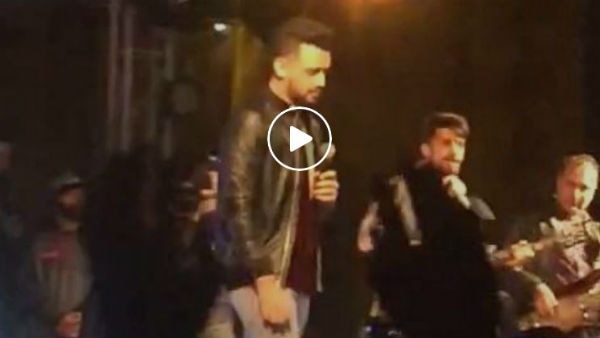 Popular Pakistani singer Atif Aslam recently did something which clearly defines 'real men'! The singer stopped his concert midway to jump to the aid of a girl who was being harassed by a group of men in Karachi, Pakistan.
Initially, Atif scolded  a bunch of rowdy men who were harassing a girl in the front row, he then he asks the security personnel to escort her to safety.
At the Karachi Eat 2017 concert on Saturday night, Aslam took some hooligans to task after rescuing a girl who was being harassed, Geo news reported.
WATCH: This VIDEO of Pakistani actress Mahira Khan TAKING A DIG at India & Bollywood goes VIRAL!
The concert also featured veteran singer, Abida Parveen, followed by Aslam. When Aslam took the stage after 1 a.m. the atmosphere was electrifying.
Midway into the performance, a crowd of rowdy youngsters present started harassing a girl in the front row. Realising the incident unfolding before him, Aslam walked up to the edge of the stage and gave the youngsters a schooling.
WATCH: VIRAL Ramzan special surf-excel ad from Pakistan will surely melt your HEART! VIDEO INSIDE
In a video that has surfaced on social media and is going viral, Atif can be seen stopping his performance mid-way, he can be heard saying
-  "Tumne kabhi ladki nahi dekhi hai? Tumhari maa-behen bhi ho sakti hai yahaan par
(Have you never seen a girl before? Your mother or sister could have been here as well)."
The crowd can be then seen bursting into a loud cheer and chanting "Atif, Atif". WATCH THE VIDEO BELOW that was shared by FHM Pakistan.
 WATCH BELOW:

Now that's something what is expected from a real life hero and undoubtedly Atif proved to be the one! And stopping his concert to protect a woman's dignity has made the singer gain our huge respect too!
Take a bow Atif Aslam!
With inputs from IANS