WATCH VIDEO: Ranvir Singh dances with Shanaya Kapoor and kisses her forehead at the end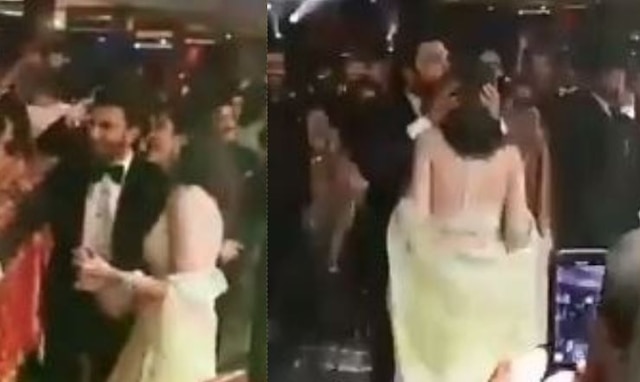 New Delhi: Sonam Kapoor and Anand Ahuja's wedding reception was a grand bash with Bollywood's stars turning up and making the biggest event of this year. Untill now, new pictures and videos are coming and it is a delight to see them.
One such video has been shared by Arjun Kapoor's fanclub where Ranveer Singh is seen dancing with Sanjay and Maheep Kapoor's daughter Shanaya Kapoor. But the cutest thing in that video is that while dancing, Ranveer Singh kisses Shanaya's forehead.


Arjun Kapoor re-tweeted the video and wrote, "She wanted to meet him so I just impulsively took her".


Although Shanaya was a bit shy on dance floor with Ranveer, but what actor did was really heart-warming.

Check out this video:




[UNSEEN VIDEO] Too cute for words❤❤❤
When @arjunk26 brought baby sister #ShanayaKapoor on the dance floor who appeared a bit shy to dance with @RanveerOfficial 😍😍
Love how Arjun & #JahaanKapoor stood at the side and smiled!@maheepkapoor @anshulakapoor @sonamakapoor #TBT pic.twitter.com/cnTToGb1o4


— Arjun Kapoor Cafe (@ArjunKapoorCafe) May 24, 2018



She wanted to meet him so I just impulsively took her https://t.co/uFc86PKzOJ


— Arjun Kapoor (@arjunk26) May 24, 2018



We have to say that Ranveer Singh made everyone dance and was also seen picking up Anand Ahuja in arms and twirling around.