VIDEO: Malaika Arora reveals how son Arhaan Khan reacted to her divorce with Arbaaz Khan, on Kareena's Radio show!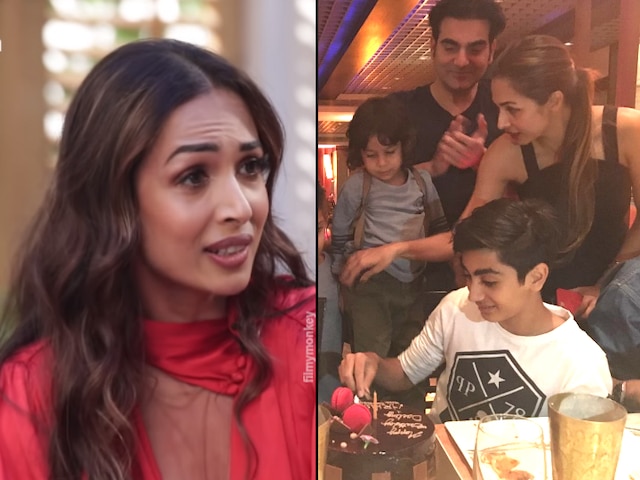 Malaika Arora recently appeared as the celebrity guest on BFF Kareena Kapoor Khan's radio chat show 'What Women Want' and she opened up for the first time over her divorce with husband Arbaaz Khan. We have already told you that Malaika confessed that the two of them were making each other unhappy in the marriage and hence they decided to go their separate ways. Speaking about her son in the video shared by Ishq FM, she had only said that
"we are cordial, we have a very healthy relationship and of course our child is the most important factor in our life". 
More DETAILS: VIDEO! Malaika Arora FINALLY OPENS up about divorce with Arbaaz Khan on Kareena Kapoor Khan's radio show 'What Women Want'
And now here's another video from 'What Women Want' with Malaika as guest, in which she is seen revealing how their son Arhaan Khan reacted to the whole situation.


Bebo asked Kareena: "When you have children in a marriage and i think that, you know, it always have a negative impact you know, when parents get divorced. But i feel that jab ek couple saath mei rehkar bhi khush nahi hai i think that also invariably has a negative impact, you know on children. [Malaika: absolutely].. So how do you think that?..."

Malaika: "I think we.. i would much rather see my child[Arhaan Khan] in a happy environment than be subjected to an environment that is completely disruptive. And i think..with time i think my child is far more accepting and far more jaise kehte hain ki khil raha hai abhi because.. [Kareena: And there's nothing more than a happy mother] And he can see that we both as individuals are far happy that what we were in the marriage."

"He did actually turn around one day and he did say that to me. He says "mom it's good to see you happy and smiling" you know". 

Malaika also said during the interview that Arbaaz and herself remain on cooridal terms and we do see the exes lunching and going out their son Arhaan at various occasions and the trio gets papped too with both the parents of Arhaan posing comfortably for the cameras.

IN PICS: Bollywood DIVA Malaika Arora goes on a DINNER DATE EX HUSBAND Arbaaz Khan, son Arhaan & other family members!


Malaika on out for a family-dinner with Arbaaz and Arhaan Khan in June, 2018 (Pic: Manav Manglanli)

Post her divorce with Arbaaz, the 'India's Got Talent' judge is now dating Arjun Kapoor and while the couple has remained tight-lipped over their relationship, their pictures from the dinner dates and parties with bunch of friends speak volumes about their affair. They have been spotted getting cosy with each other too.

PICS: Arjun-Malaika get cosy as they party with Kareena, Maheep Kapoor & others!

Watch Malaika reveal how son Arhaan Khan reacted on her divorce with Arbaaz, below: