Amitabh Choudhary, Rahul Johri to attend ICC meet in London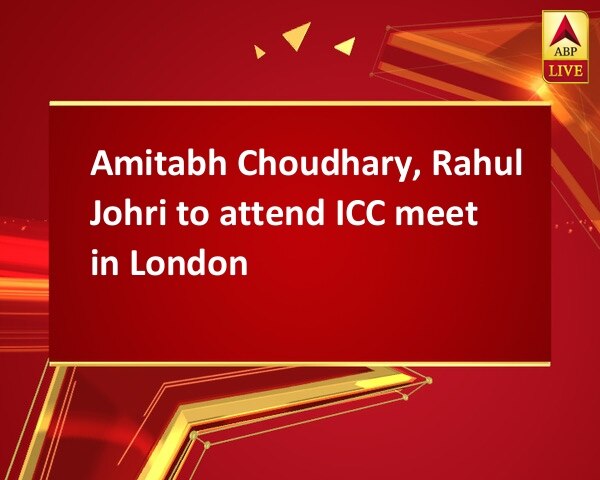 By:

ANI
Updated:
17 Jun 2017 11:50 PM
New Delhi [India], June 17 (ANI): Board of Control for Cricket in India (BCCI) acting secretary Amitabh Choudhary will be attending the International Cricket Council's (ICC) annual conference that is scheduled in London from June 19.
"Rahul Johri shall accompany him (Choudhary) and also attend the meeting of the Chief Executive Officers," the BCCI said.
The BCCI has been opposed to ICC's changes in the governance policies and revenue model structure.
Sri Lanka, Bangladesh and Zimbabwe have also expressed their support to the Indian board to ensure that the changes proposed by the ICC to the governance model do not receive the necessary support through a voting process.
The ICC had approved of a new financial model after its five-day meet in Dubai, under which the BCCI was to receive 293 million dollars from 2016 to 2023.
Previously, the BCCI was drawing an amount of 570 million dollars due to its 'Big Three' formula.
ICC independent chairman Shashank Manohar had initially offered a compromise formula of an additional 100 million dollars, which would push the BCCI's share to almost 400 million dollars.
However, BCCI rejected this with a counter-offer under which it would still get its 570 million dollars but no other full member's share would be reduced.
The England Cricket Board received 143 million dollars while Zimbabwe Cricket received 94 million dollars.
The remaining seven Full Members will receive 132 million dollars each. The Associate Members will receive a funding of 280 million dollars. This model was passed by a vote of 13 to 1.
The International Cricket Council (ICC) Annual Conference is scheduled in London from June 19, 2017. (ANI)
This story has not been edited. It has been published as provided by ANI