Champions Trophy Hockey: India beat Pakistan 4-0 in tournament opener
India will now take on Argentina in their second match on June 24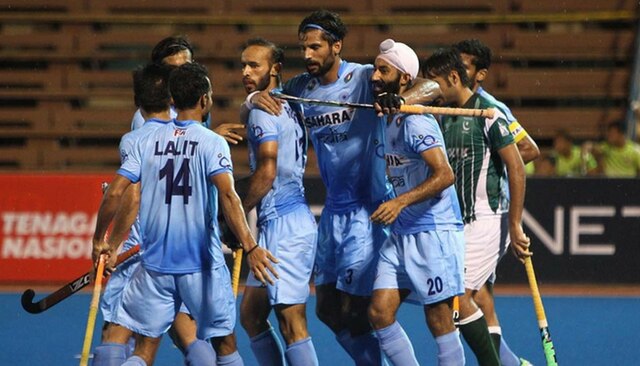 The Indian hockey team kicked off their Champions Trophy 2018 journey with a fantastic 4-0 victory over arch-rivals, Pakistan, on June 23 in Breda.

India opened their account with Ramandeep Singh's tap-in in the 25th minute. Though Pakistan put all their efforts and exhibited a decent performance in the first half but failed to register a shot on target.

Indian led the game 1-0 by the half-time. On the other hand, Pakistan looked charged-up with the beginning of the third half and fought hard to find the equaliser. They put all their efforts to get the breakthrough, however, India's defence didn't allow them to do so.

Pakistan attacked in a fully-fledged manner. Mohammad Umar Bhutta went for a powerful shot with but Indian goalkeeper PR Sreejesh successfully stopped the ball and turned down opponent's hopes.

In the 54th minute of the match, Surinder Kumar passed the ball to Simranjeet, who further passed it to 17-year-old Dilpreet who gave India a 2-0 lead. While the Indian camp was full of happy faces, Pakistan removed Imran Butt as a goalkeeper.

Taking advantage of the situation, India made a score of 3-0 in the 57th minute with Mandeep Singh's perfect shot. A minute before the end of the match, Lalit Upadhyay put the last nail in the coffin as he scored the fourth goal and helped India in registering a terrific win.

India will now take on Argentina in their second match on June 24.