India vs Sri Lanka Champions Trophy: Mendis, Mathews brilliance help Sri Lanka gun down 322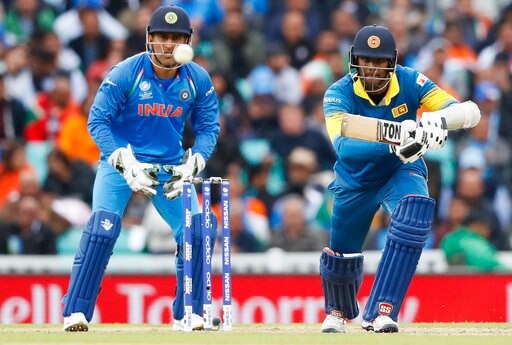 A wonderful chase from Sri Lanka as they pick up their first win of the tournament. With a target of 322 to chase, they lost Dickwella early but Gunathilaka and Mendis took up the mantle and took the game in their stride with a mammoth 159-run stand, with both scoring fifties. It set up the platform for the middle order which took complete advantage.
Umesh Yadav to Angelo Mathews,
ANGELO MATHEWS WITH THE WINNING RUN! Just helps this through square leg for a single. He gestures by raising his bat over his head and pointing at the name behind on his jersey. Has every right to do so today, has played a gem of a knock. Well played. A well-deserved and much-needed victory. SRI LANKA WIN BY 7 WICKETS!
33rd ODI fifty for Angelo Mathews!
Kusal Perera is the next man in.
Virat Kohli to Danushka Gunathilaka,
OUT! Maybe not precisely, but Virat Kohli's bowling change has done the trick, in a way at least. Gunathilaka flicks this towards backward square leg and quickly calls for the second. Umesh Yadav runs to the ball and throws the ball to Dhoni. And as always, the Indian keeper is lightning with his glove work. Whips the bails off in the blink of an eye as Mendis dives to get back in. The decision goes upstairs and replays show that Mendis' bat is in the air when the bails are off. This is a big moment, India have broken the 159-run stand.
A run out appeal against Danushka Gunathilaka is referred upstairs by the umpire. This could be close.
Mendis
slams
Virat
for
four
on the first ball
SURPRISING!
Indian skipper Virat Kohli comes into attack and this time with the ball
Kushal Mendis hits 3 fours in a row. Sri Lanka are now 158/1 in 26 overs
100-run stand between Gunathilaka and Mendis!
4th ODI fifty for Danushka Gunathilaka!
#WICKET! Bhuvneshwar Kumar to Niroshan Dickwella,
OUT! Bhuvneshwar Kumar draws first blood! This is a big wicket for India. Everybody knows how dangerous he can be at the start of the innings, the Men in Blue will be tremendously pleased seeing him walk back. Good length delivery on off, shaping away ever so slightly, Dickwella swings across the line and ends up getting a top edge. It lobs over to point where Jadeja moves to his right and takes a simple catch. Sri Lanka off to a start they wouldn't have wanted.
Players back in the middle
Shikhar Dhawan and MS Dhoni stood out in an all-round batting effort, propelling India to 321 for six against Sri Lanka at the Oval on Thursday.After being put to bat first, Indian openers Shikhar Dhawan and Rohit Sharma again raised to the occasion as they stitched another 138 runs for the first wicket.  This was India's 5
th
consecutive 300-plus scores in ODI, thanks to the big hitting by MS Dhoni and Kedar Jadhav in the end as they helped India amass 103 runs in last 10 overs
India post 321/6 and Sri Lanka have tough task ahead.
India reach 300-run mark
#FIFTY!
MS Dhoni hits fifty in style.
India 290/5
46 overs: India 280/5.
MS Dhoni
48(41)
, Kedar Jadhav
1(1)
#WICKET!
Hardik Pandya falls trying to hit big shot over cover
Fantastic innings comes to an end,
Shikhar Dhawan
departs on
125
Dhawan and Dhoni bring up
250
for
India
40 overs: India 218/3.
Shikhar Dhawan
102(113)
, MS Dhoni
22(25)
Shikhar Dhawan
smashes 10th ODI
hundred
.
India suffer another loss as 
Yuvraj Singh
departs for 7
30 overs: India 169/2
. Shikhar Dhawan
79(89)
, Yuvraj Singh
3(7)
Yuvraj Singh comes in to replace Virat Kohli
#WICKET! Virat Kohli
goes for a duck as he is caught behind by Nuwan Pradeep
Indian skipper Virat Kohli is the next man in.
#WICKET!
That's the end of Rohit Sharma, Lasith Malinga sends Hitman back on 78. India 138/1
Shikhar joins Rohit Sharma, two fifties in two Champions Trophy games for the stylish southpaw.
Rohit Sharma on fire as India
114/0
in
21 overs
Fifty
for Rohit,
hundred
comes up for India
15 overs: India 74/0.
Rohit Sharma
32 (44)
, Shikhar Dhawan
36(46)
10 overs: India 48/0
. Rohit Sharma
20(25)
, Shikhar Dhawan
28(35)
Disciplined Sri Lankan bowling restrict India to 17/0 in the first 5 overs
3 overs: India
 12/0. Rohit Sharma
5(11)
, Shikhar Dhawan
7(7)
The players and umpires are making their way out in the middle. Shikhar Dhawan and Rohit Sharma will open the batting for India.
IND XI:
RG Sharma, S Dhawan, V Kohli, Y Singh, MS Dhoni, K Jadhav, H Pandya, R Jadeja, B Kumar, U Yadav, J Bumrah
SL XI:
N Dickwella, D Gunathilaka, K Mendis, D Chandimal, A Mathews, K Perera, A Gunaratne, T Perera, S Lakmal, L Malinga, N Pradeep
Virat Kohli says they would have also liked to bowl first. Adds the conditions apparently will remain the same so they will have to bat well anyway. States everyone was on the top of their game at the start of the tournament which brings momentum into this game. (On keeping the same team) Says the conditions in England are a little different and Ravichandran Ashwin understood the dynamics of the team selection in the last game as well and it helps he's a professional. (On Yuvraj Singh's form) Mentions he had a fantastic Indian T20 League and he's doing well here too, Rohit Sharma as well. When asked about their good record against Sri Lanka, reckons it doesn't count in a tournament like the Champions Trophy or anywhere for that matter, just have to embrace the moment and play consistent cricket.
Angelo Matthews says that he will be bowling first. Mentions that it is overcast and they will look to most of the conditions. Reckons that it is always good to be back in the side. Feels that there batsmen did not click in the last game and he hopes things change tonight. Informs that he, Thisara Perera and Danushka Gunathilaka come in place for Upul Tharanga, Chamara Kapugedara and Seekuge Prasanna.
SRI LANKA WIN THE

TOSS

AND WILL HAVE A BOWL FIRST!
Pitch Report - Saba Karim says that the wicket is a new one and has good grass covering on it. Adds since it has never been used before, it doesn't have any cracks on it for the spinners. States that with the overcast conditions and the hard surface, the team batting first will have find it tough to do so. Ends by saying that then toss will be important and the team winning it should obviously bowl first.
Welcome to the LIVE coverage of India Vs Sri Lanka Group B encounter at Oval, England
London: A near flawless demolition of Pakistan achieved, India will eye another dominant performance to seal a semifinal berth when they take on Sr Lanka in the ICC Champions Trophy here on Thursday.
Having pulverised Pakistan by 124 runs, India will start as overwhelming favourites against Sri Lanka, who looked in total disarray during their 96-run defeat at the hands of South Africa.
The only worry is the fickle London weather, with forecasts of 40 percent chance of heavy rainfall.
Performances aside, the sheer difference in quality also puts India a few notches ahead of the cricketers from the island nation.
On paper, the two sides are a total mismatch.
While India ticked almost all the boxes in their victory against Pakistan, the Sri Lankans, in their opening fixture, looked as if they have only entered the tournament to add numbers.
The winners of the last edition have a formidable batting line-up, which is being backed very well by a potent bowling attack.
And therein lies the problem with Sri Lanka, which is a side that is going through a rebuilding phase for the longest time now.
To make matters worse, the form and fitness of regular captain Angelo Mathews is a cause for concern, while senior opener Upul Tharanga's two-match suspension has added insult to injury.
It's two years since both Mahela Jayawardene and Kumar Sangakkara quit ODIs post the 2015 World Cup but Sri Lanka have not been able to single out even a couple of players, who can show steely resolve.
The likes of Dinesh Chandimal or Chamara Kapugedara have been around for some time but both have been guilty of not realising their full potential till date.
No wonder Sangakkara, in his column for the ICC, has made it clear that Sri Lanka need to show aggression against India while conceding that it may not be easy for them.
Playing in his final first-class season, Sangakkara has been in sublime form for Surrey with four centuries in county cricket.
For India, playing Sri Lanka before facing South Africa (on June 11) is an advantage as they can go into the final group league game with a free mind.
Rohit Sharma hitting a 91 on comeback is a reassurance while Shikhar Dhawan's positive approach will keep the 'Men in Blue' in good stead.
Skipper Virat Kohli has over the years been Sri Lanka's nemesis and the 81 not out against Pakistan, is just the tonic he needed before taking on the likes of Lasith Malinga, Suranga Lakmal and  Nuwan Pradeep.
Yuvraj Singh was in vintage form at the Edgbaston and a placid Oval pitch will only help get a few more runs under his belt.
Hardik Pandya's power hitting at No 7 and his ability to chip in with quick wickets makes this Indian side more intimidating.
The only thing that Virat Kohli would want now is Mahendra Singh Dhoni getting some batting time before the big game against South Africa.
Kohli promoting Pandya ahead of Dhoni is an indication that the skipper is looking to use his former captain more as an accumulator -- in Javed Miandad mould who would rotate strike, frustrate bowlers and launch a furious counter-attack after getting his eye in.
India's bowling unit has been sharp off late. Bhuvneshwar Kumar's controlled swing bowling, Umesh Yadav's fiery pace backed by Jasprit Bumrah's overs at the death has have troubled the oppositions.
Such has been the quality that bowlers of Mohammed Shami and Ravichandran Ashwin's calibre are warming the benches since the first XI picked for the matches so far have not given any reason to complaint.
It is unlikely that Kohli would tinker with the winning combination although one feels for Ashwin, who is India's strike bowler in the red-ball format.
For Sri Lanka, this is a do-or-die match where a lot will depend on how well skipper Mathews plays and the kind of performance Malinga gives while bowling first up.
If the duo fails, one can be sure that Sri Lanka will meet Pakistan's fate against this current India side.