Cricketer Irfan Pathan, wife Safa blessed with a baby boy!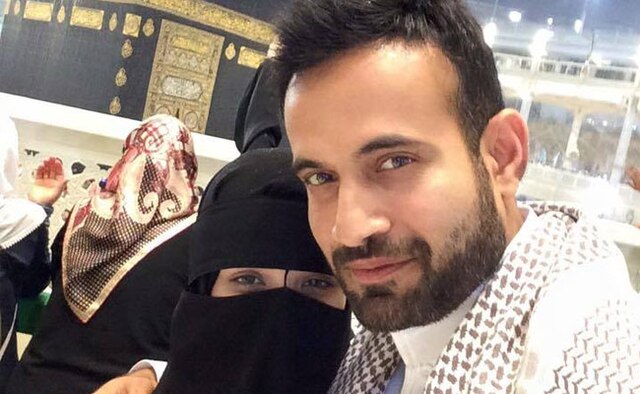 New Delhi: Tuesday was big for not only Saif and Kareena Kapoor Khan but also for Indian cricketer Irfan Pathan who announced on Twitter that his wife Safa Baig and he had become proud parents of a baby boy.
In February this year, the Baroda all-rounder got married to a 21-year-old model from Jeddah in a low-key wedding ceremony in Mecca.
He tweeted, "Is ehsas ko Bayaan karna Mushkil hai...is me Ek behtareen si Kashish hay, blessed with a baby boy (sic)."
Here are reactions from Twitter wishing the couple



@IrfanPathan Mubarak ho bhai.


— Salman Nizami (@SalmanNizami_) December 20, 2016

@IrfanPathan Congratulations. May he outshine your achievements.

— Mubassir Latifi مبصر (@Mubassir_Latifi) December 20, 2016




Congratulations Big Brother @IrfanPathan my Allah Bless You And Your Family???? I Pray Allah Gives Happy And Healthy Life In Shaa Allah...


— Baseri Faiz (@ImFaiz_07) December 20, 2016

@IrfanPathan Congratulations Irfan bhai, Allah apki saari khwaish puri karte rahe aur aapka beta aapki tarah he kaabil bane cricket me. ????????????

— Music saves the day! (@SharpKeef) December 20, 2016




@IrfanPathan Congrats For Baby Boy????


— Shebas Tendulkar (@ShebasTendulkar) December 20, 2016

@IrfanPathan @yiu pic.twitter.com/oyis1cLFvj

— Naseem Akhtar (@iamnaseem_1) December 20, 2016




@IrfanPathan many many congratulations.. lots of love and good wishes to d baby boy.. May he have a great and successful life.. lots of love


— Rupkatha (@Ruupkatha) December 20, 2016