FIFA World Cup 2018 France vs Croatia live score: France beat Croatia 4-2 to win their 2nd World Cup
FIFA World Cup Final France vs Croatia Live score and updates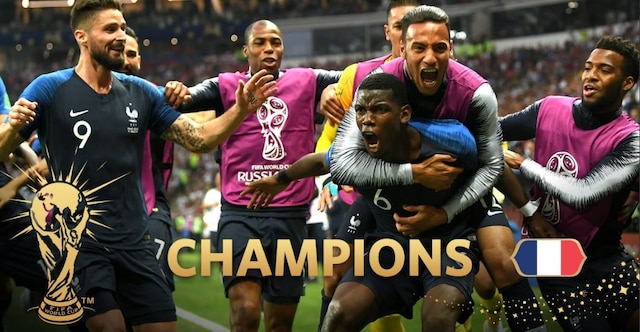 FIFA World Cup Final France vs Croatia: France will bid to win their second FIFA World Cup title as they will start as slight favourites against maiden finalists Croatia in the 2018 edition title-decider at the Luzhniki Stadium, Moscow.
IT'S ALL OVER! France are the winners of the FIFA World Cup 2018. They have beaten Croatia by 4-2 to win their second World Cup title. What a final it has been.

89 minutes: The assistant referee has decided to award 5 minutes of added time. So 1 minute plus the added 5 minutes separating France from their 2nd World Cup title.

85 minutes: The final 5 minutes of regulation time remaining. Croatia need something special to take this to extra time.




The last three #WorldCupFinal in 2006, 2010 and 2014 - all went to extra time, with the 2006 final being decided on a penalty shootout.
This one looks to be done in 90 mins! #FIFAWorldCupfinal#WorldCup#CROFRA


— Mohandas Menon (@mohanstatsman) July 15, 2018



80 minutes: A goalless World Cup for France No. 9 Giroud. Fekir replaces him, this is France's final substitution

71 minutes: France make another substitution. Blaise Matuidi makes way for Tolliso

69 minutes: Rebic comes off as Kramaric comes in for Croatia.

68 minutes: Oh wait a minute! This match is not over yet. Croatia have a goal through Mandzukic or shall we say through the France captain Lloris? What was he thinking there? He can put his hand up a million times but the fact will remain, his mistake has given oxygen to Croatia. It's 4-2

65 minutes: A record goal for Mbappe, and perhaps a World Cup winning one. Mbappe becomes the only teenager to score in a World Cup final after Pele in 1958. France now 4-1 ahead. Surely this has to be the last nail in the Croatian coffin.

59 minutes: Pogba makes it 3-1 for France




#FifaWorldCupFinal: Second time lucky for Paul Pogba, France have a taken a 3-1 lead 59 minutes into the #WorldCup final. Will that be enough for #FRA? #FRACRO pic.twitter.com/uV2gym5g2X


— ABP News (@abpnewstv) July 15, 2018



55 minutes: The first substitute of the game comes from France. Onzonzi comes in place of Kante. The yellow must have gone against Kante, otherwise no such reason for a substitution.

53 minutes: Mbappe again tries to break free and almost succeeds in doing so but the Croatian keeper is up to the task.

The SECOND-HALF begins

HALF-TIME: The referee blows the whistle, we all know which side will be happier going into half-time. An goal and a Griezmann penalty have allowed France to take a 2-1 lead over Croatia.

37 minutes: Griezmann SCORES, he had scored from the first VAR penalty and he has perhaps scored the last penalty using VAR of this World Cup too. France have taken the lead again.

36 minutes: Referee awards a PENALTY to France in the World Cup Final using VAR. It was a handful inside the box and France again have the chance to take the lead.

28 minutes: Ivan Perisic has drawn level for Croatia once again with stunning left-footer.




#FifaWorldCupFinal: Ivan Perisic, remember the name, an equalizer in the semi-final and now an equalizer in the final, what a left footer. it's all level in the final #FRACRO #FRA 1-1 #CRO pic.twitter.com/DAHP8QRQJV


— ABP News (@abpnewstv) July 15, 2018



18 minutes: Griezmann with the free kick it's great ball in and GOOOALLLLL! France have the lead in the World Cup Final. It took a deflection off Mandzukic, that defied the goalkeeper. That's been awarded as an goal - the first ever in the history of World Cup finals

16 minutes: Mbappe with the first attack of France, great skills from the 19 year old, nearly finds Griezmann in the middle. Croatia evade danger

15 minutes: A quarter of the final is gone and it has been Croatia all the way

11 minutes: Easily the best of the final so far a great through ball from Rakitic towards Perisic, the striker receives it but Lloris comes to France's rescue.

8 minutes: The first corner oftthe final has been awarded to Craotia and it will be taken by Modric. Modric curls it in but the France defense up for the challenge, Umtiti heads it away.

4 minutes: Croatia on the attack, Mandzukic makes a good move down the right flank but France evade the danger. Some early pressure being applied by the underdogs.

We are all set for the kick off, here we go. All eyes on the No. 10s of both the teams. The referee  blows the whistle

The Toss

France have won the toss, not that it matters any great deal in Football but whatever luck comes your way is great.

Here is the starting XI for France and Croatia




The team news is in...


Here are your Starting XIs, #FRA and #CRO fans! #FRACRO // #WorldCupFinal pic.twitter.com/f5v1NuaCtJ

— FIFA World Cup (@FIFAWorldCup) July 15, 2018



The glittering closing ceremony is done and dusted, we are all set for the showdown now. Who are you backing? France or Croatia?

What a show!


Thank you @NickyJamPR, @strefie and Will Smith! #WorldCupFinal pic.twitter.com/fbjMqdkdyW


— FIFA World Cup (@FIFAWorldCup) July 15, 2018



Hello and Welcome to the live updates of the FIFA World Cup 2018 Final