From Messi to Neymar; Nadal to Massa, sporting world mourns fatal plane crash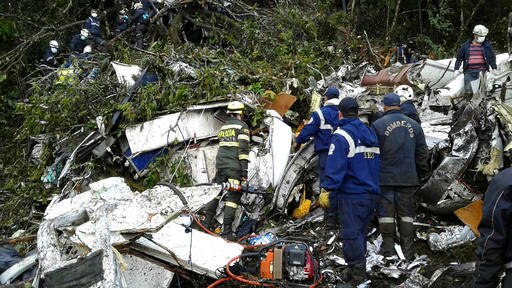 New Delhi: From Lionel Messi to Neymar, from Diego Maradona to Rafael Nadal, the world of sports expressed its sorrow following the crash of the plane carrying the Brazilian soccer team Chapecoense. The short-haul charter crashed in Medellin on its way to Colombia for the Copa Sudamericana final.

At least 75 of the 81 people on board died, authorities said.

All Brazilian first division teams changed their official Twitter profile pictures to a black logo of Chapecoense. Teams such as Barcelona, Real Madrid and Manchester United also sent condolences.

"It's impossible to believe this tragedy, impossible to believe what happened, impossible to believe that the plane crashed, impossible to believe that athletes, human beings were on this plane, impossible to believe that these people left their families. Today the world cries, but heaven rejoices in receiving Champions." Barcelona and Brazil star Neymar shared on Instagram with a photo of the club's logo.

"My deepest condolences go to all of the families, friends and supporters of the Associação Chapecoense de Futebol squad. #FuerzaChape." Barcelona and Argentina star Lionel Messi wrote on Facebook.

"Brazilian football is in mourning. It is such a tragic loss. My sincere condolences to the families of the deceased. Rest in peace," said, Brazilian soccer legend Pele.

"My condolences to the families of the Brazilian Chapecoense team, and of all the people who died in this tragic plane crash in Colombia. Unfortunately, these kids, who were making their way in soccer, took the wrong plane. From this day on, I'm a fan of Chapecoense" wrote Argentina soccer legend Diego Maradona on his Facebook profile.

"Real Madrid C.F. expresses its sorrow at the tragic air crash involving the Brazilian club Chapecoense and extends its condolences to relatives and friends of the victims. At the same time, wishing an early recovery for the survivors," Real Madrid shared on its website.

"My deepest condolences to the relatives and friends of the Brazilian team and everyone affected by this terrible tragedy. #Chapecoense." Manchester United midfielder Bastian Schweinsteiger on Twitter.

"My condolences to @ChapecoenseReal and the families of all the victims of the plane crash." Spanish tennis great Rafael Nadal wrote on Twitter.

"A very sad day for sports! Strength for all those families #sadness @chapecoensereal." Brazilian Formula One driver Felipe Massa shared on Instagram.