ICC could scrap Champions Trophy for expanded World T20s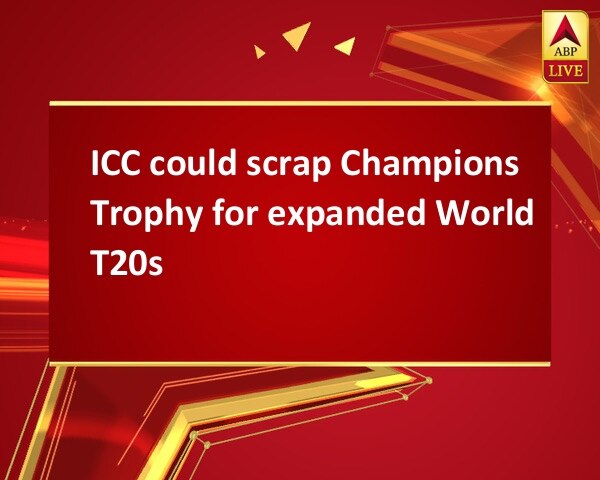 By:

ANI
Updated:
20 Jun 2017 01:55 PM
Karachi [Pakistan], June 20 (ANI): International Cricket Council (ICC) chief executive David Richardson has revealed that Champions Trophy could be scrapped to make way for the World T20 every two years.
India slumped to a crushing 180-run defeat at the hands of their arch-rivals Pakistan at the Kennington Oval on Sunday, with an estimated viewing audience in hundreds of millions.
However, some officials argued that the recently-concluded eight-team marquee event is too similar to the World Cup, which the ICC has decided will be contested with just 10 teams from 2019 in England.
And Richardson admitted that there should be some differentiation in global events and, therefore, the 2021 Champions Trophy, scheduled to be held in India, is not guaranteed to go ahead, the Dawn reported.
"What we want to do is differentiate our global events from each other so that they can be standalone and create maximum interest every time the event happens," Richardson told reporters via telephonic conversation on the eve of the ICC's annual conference in London.
"At this stage, the next Champions Trophy is still scheduled for India in 2021. Whether that gets changed, the consideration has been given to changing to two T20s in a four-year cycle which would mean swapping the Champions Trophy for a World T20," he added.
Richardson believes that World T20s attract a lot more attention than ODI tournaments and also generate significant revenue for the television companies.
He further insisted that the idea is to give opportunities to more teams, hinting at the possibility of 20 teams featuring in World T20s in future.
"The fact is that World T20s do attract a lot of interest, they generate significant revenue for the television companies, but most importantly from our point of view they provide us with an opportunity to give more opportunities to more teams," Richardson said.
"A 16-team World T20 - even a 20-team World T20 - down the line is something that we would like to look at. With a 10-team World Cup we're hoping to increase the competitiveness of matches and the standard of the tournament as a whole. It might not be necessary to continue with two 50-over tournaments going forward," he added.
The ICC will hold its annual conference in London today to discuss whether a Test status should be granted to Ireland and Afghanistan, with an announcement expected to be made on Thursday. (ANI)
This story has not been edited. It has been published as provided by ANI