IHC questions monetary rewards for Pak's cricket team by PM's office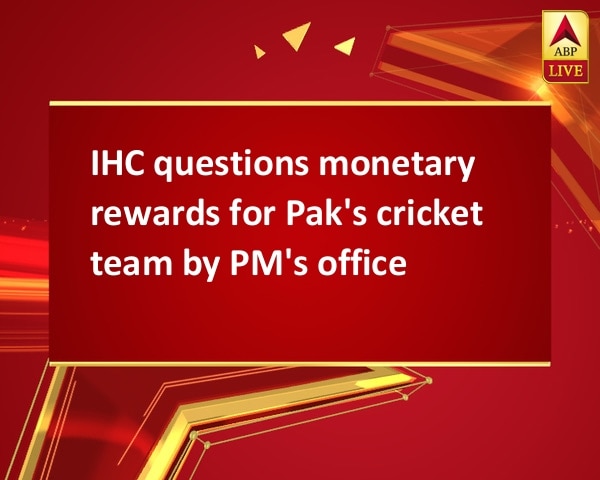 By:

ANI
Updated:
05 Jul 2017 02:20 PM
Karachi [Pakistan], July 5 (ANI): Prime Minister Nawaz Sharif's sanctioning of Rs. 215 million in rewards for the Pakistan cricket team post winning the Champions Trophy has been questioned by the Islamabad High Court (IHC).
In a petition filed by advocate Tariq Asad, the court asked for comments from the Prime Minister's Secretariat against the reward announcement and to explain the law under which such rewards can be justified.
Under the delighted announcement by the Prime Minister, each of the 15 players of the national team will be rewarded Rs. 10 million while each of the 13 members of the team management will be given Rs. 5 million in addition to their monthly salaries, reports the Dawn.
The petitioner's main concern seemed the distribution of public funds in an extravagant manner. He appreciated the historical win of the cricket team and agreed on a tribute to be paid to them. He, however, criticised the move, saying the huge amount as reward is not in accordance to the law and it should rather be utilised for public welfare and to supply basic amenities to the common people.
He said the players and squad members get sufficient match money, funds from other resources, salaries and benefits for playing first class cricket for various departments and have contracts with the Pakistan Cricket Board (PCB), making their normal income "over and above a 22-grade officer".
The Prime Minister had already handed the reward money to the cricket team despite the petitioner's request to the court to stay the reward ceremony.
In the hearing on Tuesday, the federal government's counsel, deputy attorney general Raja Khalid Mehmood said Article 78 to 87 of the Constitution were related to the budget, grants and supplementary grants allowing the prime minister to announce cash awards among other grants.
Justifying the action, Mehmood said funds allocated for the Prime Minister's Office could also be used in such situations.
Pakistan won their maiden ICC Champions Trophy title after thrashing India by a huge margin of 180 runs in the finals played at The Oval in London on June 18. (ANI)
This story has not been edited. It has been published as provided by ANI