It is an honour for snooker and billiards fraternity: Padma Bhushan awardee Advani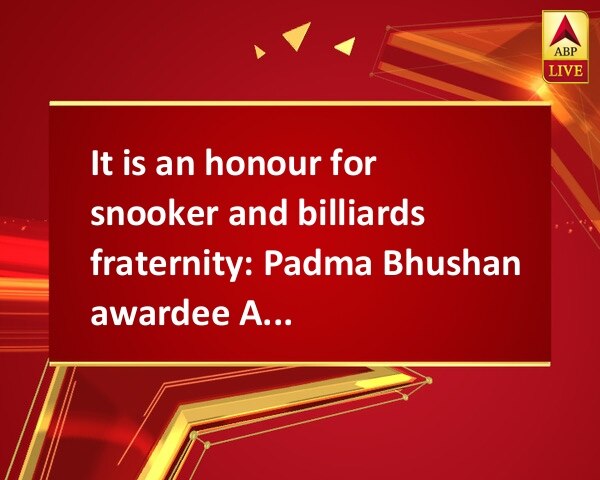 By:

ANI
Updated:
26 Jan 2018 05:40 PM
Bengaluru [Karnataka], Jan 26 (ANI): Ace cueist Pankaj Advani, who was conferred the Padma Bhushan on the occasion of the 69th Republic Day of India, has said that the third-highest civilian award is a recognition for the snooker and billiards fraternity.
Advani was among nine named for the Padma Bhushan for outstanding achievement in their respective fields.
He told ANI, "It is a huge honour; I would like to thank the Government of India for considering me worthy of such a huge award. It is a great moment for my family and the entire snooker and billiards fraternity to be recognised and given this honour. I am really humbled."
Advani said, "It just came as a complete surprise, a pleasant surprise. I least expected it and felt that there were thousands of people who have contributed towards society, who have been selfless and many of them are unsung heroes. But, I am very happy for those unsung heroes, as they also are in that list this year."
The 32-year-old, who claimed the IBSF World Snooker Championship- his 18th world title, also congratulated other Padma awardees.
He had also won IBSF World Billiards Championship in November last year.
"To start of the year on such an exciting note is a great moment and also by winning both the world billiards and snooker titles in Doha and Qatar was a great way to end last year. It is great ending to last year and a great beginning to this year," he said. (ANI)
This story has not been edited. It has been published as provided by ANI