It's official! Floyd Mayweather vs Conor McGregor on August 26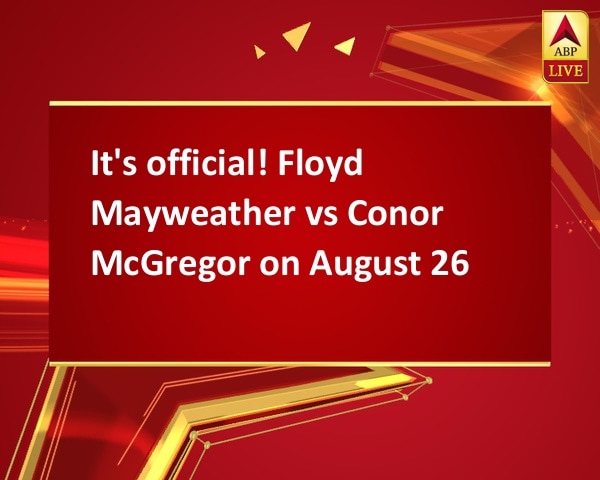 By:

ANI
Updated:
15 Jun 2017 06:10 AM
London [UK], June. 15 (ANI): The much awaited battle between UFC star Conor McGregor and the former five-division boxing champion Floyd Mayweather is all set for 26 August.
Both fighters took to social media to confirm the development, as Mayweather posted to Instagram saying "It's official!" while McGregor said "THE FIGHT IS ON," on Twitter.
Earlier on Tuesday, the Nevada Athletic Commission approved a request from Mayweather Promotions to host a fight at the MGM Grand in Las Vegas on 26 August. ESPN and Yahoo Sports later reported that the two parties had agreed on the date, reports the Guardian.
While the August date has been set, the terms for the event have not been confirmed.
When the two champions meet it will be a boxing rather than mixed martial arts match-up.
Although he has never boxed professionally, McGregor has already applied for a boxing license in Nevada. Mayweather, who is widely recognized as one of the greatest boxers of all time, retired undefeated in 49 professional fights.
"I got a call [on Tuesday night] from Mayweather Promotions that they wanted to be put back on the agenda, so I put them back on the agenda. They pulled the request but then decided to put it back on." Bob Bennett, the executive director of the Nevada Athletic Commission, confirmed to ESPN.
However, Mayweather's former rival in the ring, Oscar De La Hoya, has said the fight would harm boxing.
"With each passing day, it looks more and more likely that the circus known as Floyd Mayweather v Conor McGregor will be coming to town in the near future. As undercard fights start to take form, athletic commissions give their blessings in exchange for millions of dollars, and the fighters start counting even more cash, one group will eventually be left to make sure this farce doesn't occur - we, the fans, who are the lifeblood of our sport ... Our sport might not ever recover," said De La Hoya. (ANI)
This story has not been edited. It has been published as provided by ANI