Kyrgyzstan triumph was our best performance in long time: Sunil Chhetri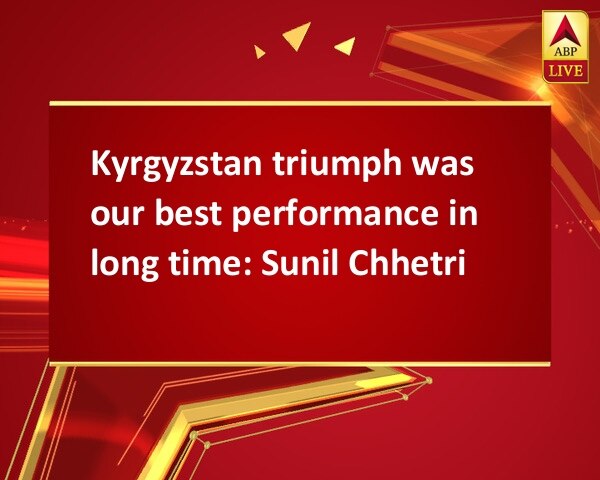 By:

ANI
Updated:
14 Jun 2017 08:40 PM
Bengaluru [India], June 14 (ANI): Sunil Chhetri, who is fondly called as 'Captain Marvel' by others, goes a bit emotional while summing up yesterday's 1-0 win against the Kyrgyz Republic in a fast-pace and entertaining AFC Asian Cup qualifier match on Tuesday.
The stupendous striker termed this win as 'Our best performance by far in a long time.'
"I'm part of the National Team for more than 10 years. Trust me, I don't remember when did we play such a fantastic brand of football last time."
The Sunil Chhetri-led side lacked the panache in the first 45 minutes and the skipper, who earned the MVP award last night for his match-winning performance, revealed, "We got a heavy bashing from the gaffer in the dressing room. Clearly, the situation wasn't an ideal one. That's why, when we came out for the next 45 minutes, it was a changed side, more focused and more promising."
Although his goal made the difference, he denied taking the entire credit for netting the winners against Myanmar as well as the Kyrgyz Republic.
"Last day it was Udanta, tonight it was Jeje- had they not made the scintillating run to feed me with the passes, those goals would haven't seen the daylight. It's not about me, it's about the team."
"My goal might be the cherry at the top but the credit goes to all. Right from Gurpreet, the tenacious defenders, Midfielders- everyone fought to their limit to churn this result", he added.
Sunil divulged more that 'there's nothing bigger than putting on the National Colour.'
"We don't need any extra motivation. We always come out of the dressing room with same hunger. We have to keep improving ourselves to churn out the positive results."
He went on to rate yesterday's goal as a crucial one and he won't mind putting it 'right up there.
He maintained, "Accumulating the importance of the goal, the timing and where it has come for the team- it'll surely be stacked up right up there. I know, I have said it more often but trust me, this goal has gotten us these three points. It's really huge for us."(ANI)
This story has not been edited. It has been published as provided by ANI