Marlon Samuels takes a dig at Shane Warne, Ben Stokes after World T20 win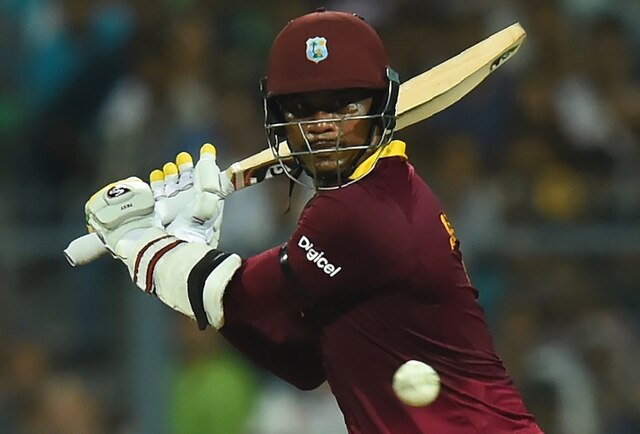 Kolkata: Marlon Samuels had a unique way of addressing the media on Sunday. Mission accomplished, the Man of the Match perched his legs up on the table and spoke about his feelings.

It's another matter that after the match, the ICC fined Samuels for using abusive and offensive language against England's Ben Stokes during the match. Samuels has been fined 30 per cent of his match fee for breaching Level 1 of the ICC Code of Conduct.

At the media conference, however, Samuels didn't forget to take a jibe at Shane Warne with whom he has had a love-hate relationship. Samuels made reference to recent comments from Warne in the commentary box after his dismissal against India in the semi-final which re-ignited the feud. The pair also had an infamous run-in during the Big Bash in 2013.

"I woke up this morning with one thing on my mind. Shane Warne has been talking continuously and all I want to say is 'this is for Shane Warne'. I answer with the bat, not the microphone," Samuels said. "Perhaps he doesn't like my face. May be my face is weird."

"In the practice match against Australia I sat in the same seat and made a first-ball duck, so I said I'd go back in the same seat I'd do something special. I don't worry about semi-finals because when it comes to finals I always turn up and do well for the team.

"I grew up watching England cricket so all respect to the England players, we are champions again and want to continue to move from strength-to-strength. This is a win for the Caribbean. It means a lot. I didn't have much to say to Carlos Brathwaite, but told him to swing hard."

Samuels also spoke about his war of words with Ben Stokes during the final over which prompted the umpires to step in. "Stokes doesn't learn. The problem is he doesn't learn.

"I keep telling him not to speak to me when bowling but he doesn't listen. I played a Test series with him and he had a problem... I don't know why."

Meanwhile, the turnout for the decider, according to Cricket Association of Bengal (CAB) officials, was 65,782. It was a full house back in 1987 as well - the last time Eden had hosted a World level final. "But that passion was missing," said a senior official, who had also been part of the show 29 years back. "India had lost in the semi-final then, just like this time around. But there's IPL nowadays. So, people are far more familiar with the big names in international cricket and get to see them play more often."

They go to see the Chris Gayles and Darren Sammys who have become household names thanks to IPL. So, it's no more just about India," the official added.

In fact, the roar was no less deafening when Carlos Brathwaite hit those monstrous sixes than it would have been had India been in action.