Mary Kom dedicates her win to India after winning gold in Women's World Boxing Championship
The 35-year-old Mary, a mother of three and a pre-tournament favourite for the gold, rewrote the record books when she eclipsed her joint haul of five golds with Katie Taylor of Ireland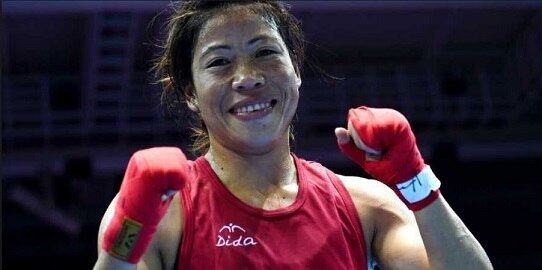 Indian legendary boxer Mary Kom after scripting history to clinch a record sixth World Championship Gold medal, dedicated her milestone to India. "I would like to dedicate this win to my country", said Mary after she outclassed Ukraine's Hanna Okhota 5:0 at the K.D. Jadhav Indoor Stadium in the light flyweight 48 kilogram category on Saturday.



I would like to dedicate this win to my country: Boxer Mary Kom after winning gold in Women's World Boxing Championships against Hanna Okhota pic.twitter.com/XJEFlD77Bd


— ANI (@ANI) November 24, 2018
The 35-year-old Mary, a mother of three and a pre-tournament favourite for the gold, rewrote the record books when she eclipsed her joint haul of five golds with Katie Taylor of Ireland.
The Manipuri pugilist, who went over her weight category to clinch a 51kg bronze at the London Olympics, previously clinched the World Championship gold on five occasions -- 2002, 2005, 2006, 2008, 2010 -- besides bagging a silver on her debut in 2001.


Welcomed by thunderous chants of "Mary Mary" at the jampacked K.D. Jadhav hall, the Indian took the ring with a statistical and psychological advantage over her Ukrainian opponent, whom she recently beat at the Silesian Women's Open semi-finals in Poland.

Living up to the reputation, Mary started the opening round aggressively and landed a couple of right jabs quite early into the round before taking full control with a right-two punch combination to Hanna.

However, towards the end of the first round, the Ukrainian managed to get a shot on Mary's face before the Indian wrestled Okhota to the ground. Mary appeared unshakable throughout and ended the round with a few jabs and a right-hand, left-hand combo.

The Indian came back with more aggression in the second round, and started with a powerful hook with her right and then doubled the attack with two quick right jabs to leave her opponent rattled.

A left-handed flick from Okhota pushed Mary backwards but towards the end of the round, the Indian delivered a perfect right hook to inch closer to another gold.

The third and decisive round began with the Manipuri pugilist delivering a right-handed jab, and adding it up with a right-hand, left-hand combo that completely demotivated Okhota.

Mary then sealed the gold in her favour with another combination of punches, and a few shots at Okhota's face leading the crowd to erupt in joy when the referees announced the unanimous 5:0 verdict in the Indian's favour.

(With inputs form IANS)